Investment in two GE Additive M LINE Factory systems and two M2 machines reasserts TEI's position as the go-to partner for additive expertise in Turkey
Paris - 17 June 2019 - GE Additive today announced at the Paris Air Show that TUSAŞ Engine Industries, Inc. (TEI) has made a significant investment in its direct metal laser melting (DMLM) technology with the purchase of two M LINE factory systems and two M2 cusing machines. Financial terms were not disclosed.

TEI was founded in 1985 as a joint venture between GE Aviation and Turkish Aerospace Industries , the Turkish Armed Forces Foundation and the Turkish Aeronautical Association and for the past thirty years TEI has manufactured more than 1000 different parts across a wide range of products for the global and Turkish aviation industry and today offers services to OEMs for more than 40 different types of military and commercial engine programs.
TEI has continued to invest in its additive technology capabilities and infrastructure over recent years, in line with the aerospace and defense industry's continued shift from prototyping to serial, industrial-scale production.
The new GE Additive M Line Factory and M2 systems will be installed at TEI's headquarters in Eskişehir and complement the company's existing fleet of laser and Arcam EBM machines.
"Today, we invest in TEI's future by investing in additive manufacturing, 'the future of manufacturing.' Our longstanding partnership and collaboration with GE is now broadening with GE Additive's machine portfolio," said Professor Dr. Mahmut Faruk Akşit, President & CEO, TEI.
"The M2 remains the machine of choice for our aerospace customers - and for good reason. It's not only the work horse of our machine portfolio, but it meets the specific needs and demands of this highly-regulated industry," said Jason Oliver, President & CEO, GE Additive.
"And with so many aerospace customers on the cusp of industrialization, our M LINE Factory with its modular machine architecture, outstanding automation and reliability makes it the perfect solution to drive economical, scalable series production on an industrial scale," Oliver added.
About GE Additive
GE Additive - part of GE (NYSE: GE) is a world leader in additive design and manufacturing, a pioneering process that has the power and potential to transform businesses. Through our integrated offering of additive experts, advanced machines and quality materials, we empower our customers to build innovative new products. Products that solve manufacturing challenges, improve business outcomes and help change the world for the better. GE Additive includes additive machine providers Concept Laser and Arcam EBM; along with additive material provider AP&C.
About TUSAS Engine Industries (TEI)
TUSAS Engine Industries Inc. (TEI) is an incorporated company established in 1985 as a joint venture of Turkish Aerospace Industries Inc. (TAI), General Electric (GE), Turkish Armed Forces Foundation (TAFF) and Turkish Aeronautical Association (TAA). TEI has become an international manufacturer and a global design center with the high quality products and services it offers to aviation industry, and it consistently moves forward step by step every day, accomplishing its corporate goals. TEI produced and delivered its first engine and engine parts in 1987, and since then, it has transferred manufacturing, assembly and testing technology of aircraft engine parts and modules to our country and also proved its success in global markets with its reliable, high quality production that meets international standards.
Featured Product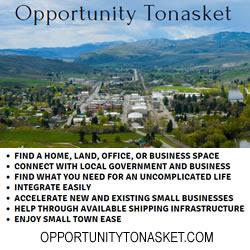 Our primary mission is to promote economic development and growth in the city of Tonasket, WA and surrounding area. This is a group of local citizens sharing a common goal. We wish to assist and promote existing businesses wishing to relocate, local businesses wishing to expand and local individuals wanting to startup a business. Preserving and enhancing the small town and rural lifestyle in a way which benefits everybody and maintains a healthy lifestyle. Opportunity Tonasket was created to be a hub for information and contacts with local city and county agencies, as well as local businesses and real estate connections. Their goal is to connect current and newly relocated individuals and businesses and "plug them in" with the best services, advice and experts in the area. Opportunity Tonasket is like a leg-up, as if one's already had a foothold in the community.