Omron Automation Americas, a globally recognized provider of advanced industrial automation solutions, has announced the release of over 2,500 new models of its E2E NEXT proximity sensor series featuring exceptionally long sensing distances and IoT functionality.
Hoffman Estates, IL., June 7, 2019 - Industrial automation solutions provider Omron Automation Americas has added more than 2,500 new models to its E2E NEXT line of proximity sensors. Highlights of the new models include an enhanced sensing distance that minimizes target contact during production and IoT capabilities for improved predictive maintenance.

Contact avoidance is essential for maximizing uptime. Seventy percent of unexpected equipment downtime is caused by component failures, of which proximity sensors account for a large proportion. E2E sensors are designed to help manufacturers reduce potential causes of unplanned downtime while benefiting from the sensors' environmental resistance.
The addition of IO-Link functionality enables the sensors to reduce recovery time by indicating the location and cause of failures. They can also detect warning signs of impending failures and notify users via the network. The combination of IoT capabilities, long sensing distance, and oil resistant sheathing reduces the risk of sudden equipment shutdowns by a factor of three.
In summary, Omron's new E2E proximity sensors are:
• Stable. The E2E NEXT line's long sensing distance prevents unexpected equipment downtime caused by target contact, making the continued operations more stable.
• Flexible. The extra-long sensing distance makes it possible to solve size-limited applications with smaller form factor sensors.
• IoT-enabled. The DC 3-wire models use IO-Link to help identify the location and cause of failures in real time.
• Oil-resistant. E2E sensors are resistant to cutting oil, which accounts for approximately 30% of unexpected component failures.
• Easy to use. The sensors' user-friendly design makes it easy to confirm detection status and ensures that your facility can recover quickly without requiring advanced support.
Manufacturers interested in learning more about the features and benefits of the E2E NEXT proximity sensor series can access additional information at automation.omron.com.
About Omron Automation
Omron Automation is an industrial automation partner that creates, sells and services fully integrated automation solutions that include sensing, control, safety, vision, motion, robotics and more. Established in 1933 and currently headed by President Yoshihito Yamada, Omron's 36,000 employees help businesses solve problems with creativity in more than 110 countries. Learn more at automation.omron.com.
Featured Product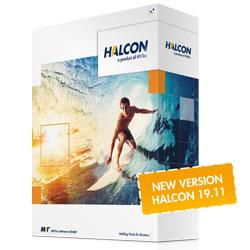 MVTec HALCON is the comprehensive standard software for machine vision with an integrated development environment that is used worldwide in all kind of industries. It enables cost savings and improved time to market. HALCON's flexible architecture facilitates rapid development of any kind of machine vision application. The software provides outstanding performance and a comprehensive support of multi-core platforms, special instruction sets like AVX2 and NEON, as well as GPU acceleration. The latest version HALCON 19.11 offers a wide range of new and improved machine vision functions. Particular emphasis was placed on the integration of further deep learning features. Now users benefit from massive simplifications for their applications, like faster inspection with anomaly detection, more transparency with the Grad-CAM heatmap and the support of ONNX format.