eBook offers in-depth education based on decades of successful enterprise technology projects
CHICAGO - June 5, 2019 - Ultra Consultants, Inc., an independent research and enterprise solutions consulting firm serving the manufacturing and distribution industries, today announced availability of a free eBook titled The Manufacturer's Guide to Business Process Improvement.

While every manufacturing organization has unique processes, they all start with a common goal - to deliver high-quality products as efficiently as possible. Achieving and maintaining business process performance requires a strategic approach to enterprise technology evaluation and selection. The resources available in this eBook help teams put the focus on business process improvements to propel the enterprise to new heights of efficiency and profitability.
The eBook includes curated resources gleaned from 25 years of successfully guiding teams through hundreds of ERP projects. Takeaways from the eBook include:
• Insight to plan, structure and implement a business process improvement initiative
• Tools to build business justification for a technology project
• Tips to put the focus on business process improvement strategies and tactics that drive results
"A focus on driving business process improvement should be the bedrock on which successful ERP projects are built," noted Jeff Carr, Ultra Consultants Founder and CEO. "Manufacturers and distributors seeking to upgrade, replace or improve current technology platforms should review this informative resource to gain the advantages of a well-managed ERP project."
Download The Manufacturer's Guide to Business Process Improvement to obtain education and insight specific to today's business challenges.
About Ultra Consultants
Ultra Consultants is an independent research and enterprise solutions consulting firm serving the manufacturing and distribution industries throughout North America, as well as companies with global operations. Since 1994, Ultra has delivered enterprise technology expertise and process management to drive business performance improvement for our clients. More information on the company's services, leadership, industry verticals served, and software vendor relationships can be found at http://www.ultraconsultants.com.
Featured Product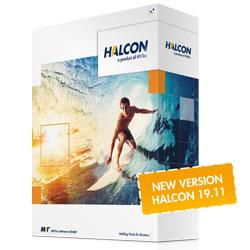 MVTec HALCON is the comprehensive standard software for machine vision with an integrated development environment that is used worldwide in all kind of industries. It enables cost savings and improved time to market. HALCON's flexible architecture facilitates rapid development of any kind of machine vision application. The software provides outstanding performance and a comprehensive support of multi-core platforms, special instruction sets like AVX2 and NEON, as well as GPU acceleration. The latest version HALCON 19.11 offers a wide range of new and improved machine vision functions. Particular emphasis was placed on the integration of further deep learning features. Now users benefit from massive simplifications for their applications, like faster inspection with anomaly detection, more transparency with the Grad-CAM heatmap and the support of ONNX format.