Cloud-based network technology allows users to connect to nearly any controller and database available on the market
Mitsubishi Electric Automation, Inc. announces a new IoT Gateway, a network technology that allows the secure connection of machine assets to cloud services or an on-premises server for remote monitoring and visualization. The IoT Gateway is designed to assist organizations in meeting business objectives and revenue goals by providing access to production information to reveal operational insights and gain business intelligence, allowing OEMs to further optimize machine design, and help end users drive down production costs.

The IoT Gateway is an adaptable solution that provides connectivity to nearly all devices and enterprise systems in the marketplace, as well as up to five programmable logic controllers (PLCs) at a time. Applications include the management of consumable materials, machine remote services, contextualized visualization, predictive maintenance, and cellular connectivity to remote machines. OEMs in the packaging and printing industries can directly benefit from the insights gained through this access to production information, and can aid them in the development of features on their next generation machines.
"The IoT Gateway is the most flexible solution on the marketplace, because it can be configured around existing systems across a global enterprise," said Agnieszka Zupancic, product manager at Mitsubishi Electric Automation, Inc. "It also offers the ability to configure your own dashboard, whereas other options may dictate the layout and data that is monitored. This allows OEMs to further optimize machine design, helping end users to drive down production costs and take advantage of the Machine as a Service (MaaS) business model."
Additional information about the IoT Gateway is available at https://us.mitsubishielectric.com/fa/en/solutions/efactory/enabling-technologies/mes-erp-and-cloud-appliances/iot-gateway/iot-gateway. Additional information on Mitsubishi Electric Automation can be found at https://us.mitsubishielectric.com/fa/en.
About Mitsubishi Electric Automation, Inc. Headquartered in Vernon Hills, Ill., Mitsubishi Electric Automation, Inc., offers a wide range of factory automation products, solutions, training and support services for the industrial and commercial sectors. A U.S. affiliate company of Mitsubishi Electric Corporation, Mitsubishi Electric Automation represents more than 75 years' experience in the automation industry. A broad product portfolio includes programmable automation controllers (PAC), programmable logic controllers (PLC), human machine interfaces (HMI), variable frequency drives (VFD), servo amplifiers and motors, control software, computerized numerical controllers (CNC), motion controllers, robots and low-voltage power distribution products. The company takes its solutions on the road with the 53-foot long Solutions in Motion mobile showroom that appears at tradeshows, training seminars and other events across North America. Additional information about Mitsubishi Electric Automation is available at us.MitsubishiElectric.com/fa/en. In addition to factory automation, Mitsubishi Electric US group companies' principal businesses include semiconductor devices, automotive electrical components, elevators and escalators, heating and cooling products, electric utility products, and large-scale video displays for stadiums and arenas. Mitsubishi Electric US group companies have 38 locations throughout North America with approximately 4,000 employees.
Featured Product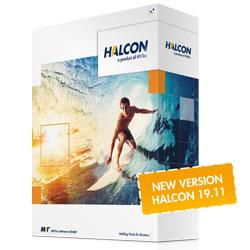 MVTec HALCON is the comprehensive standard software for machine vision with an integrated development environment that is used worldwide in all kind of industries. It enables cost savings and improved time to market. HALCON's flexible architecture facilitates rapid development of any kind of machine vision application. The software provides outstanding performance and a comprehensive support of multi-core platforms, special instruction sets like AVX2 and NEON, as well as GPU acceleration. The latest version HALCON 19.11 offers a wide range of new and improved machine vision functions. Particular emphasis was placed on the integration of further deep learning features. Now users benefit from massive simplifications for their applications, like faster inspection with anomaly detection, more transparency with the Grad-CAM heatmap and the support of ONNX format.