• Combination of MVTec products and Hilscher PC cards • Easy integration of machine vision into process control systems • Communication between MERLIC and commercial PLCs
Munich, May 28, 2019 - MVTec Software GmbH (www.mvtec.com), the leading provider of modern machine vision software, and Hilscher Gesellschaft für Systemautomation mbH (www.hilscher.com), a market leader for PC cards for industrial communication, initiated a technical partnership to enable easier integration of machine vision and process automation. Combining MVTec software products with Hilscher PC cards enables powerful machine vision applications to be integrated easily and seamlessly into any process control system. For example, MVTec's machine vision software MERLIC can communicate universally with all commercial programmable logic controllers (PLCs). The partnership benefits customers by perfectly bundling two leading and compatible technologies.

Optimized process integration into MVTec MERLIC
As for MVTec, the optimized process integration is largely based on the application programming interface (API) of the cifX PC card family from Hilscher. This API is a standardized interface for all PC cards which are provided by the manufacturer for all common form factors. Users of MVTec MERLIC and MVTec HALCON can choose from among all popular Fieldbus and Real-Time Ethernet industrial protocols, including PROFINET, EtherCAT, and many other standards.
Thanks to Hilscher's consistent platform strategy, all cifX PC cards use the standardized API as well as the same drivers and tools, regardless of the protocol or card format. The integration of the multiprotocol netX processor enables all Real-Time Ethernet protocols to be realized with just one hardware. To switch from one protocol to another, only the firmware has to be reloaded.
"The combination of MVTec and Hilscher products proves how easy it is to connect the two 'worlds' of machine vision and process automation," says Christoph Zierl, Technical Director at MVTec Software GmbH, about the collaborative effort. "We look forward to offering our customers this huge added value and expect to see many more machine vision solutions based on the innovative products from Hilscher and MVTec in the near future."
"With our cifX PC card technology, we are happy to offer HALCON and MERLIC users an interface between their automation network and machine vision software," adds Tim Pauls, Product Manager at Hilscher Gesellschaft für Systemautomation mbH. "The combination of MVTec and Hilscher technology provides users with a unique range of drivers, form factors, and network protocols, along with powerful machine vision software."
About MVTec
MVTec is a leading manufacturer of standard software for machine vision. MVTec products are used in all demanding areas of imaging: Semi-conductor industry, web inspection, quality control and inspection applications in general, medicine, 3D vision, and surveillance. MVTec, with its head office in Munich (Germany), has more than 30 established distributors worldwide and in addition, MVTec, LLC works out of Boston, MA (USA). www.mvtec.com
About Hilscher Gesellschaft für Systemautomation mbH
With over 30 years of experience in industrial communication, Hilscher is an expert in Real-Time Ethernet. With the netX network controller, Hilscher developed the first multiprotocol chip that can handle all Real-Time Ethernet systems. Thanks to this chip technology and the consistent focus on cloud technologies, Hilscher has created an integrated system solution and is, therefore, your partner for the Step into Industry 4.0. Hilscher Gesellschaft für Systemautomation mbH has existed since 1986 and today employs more than 300 people at 11 locations worldwide. With its philosophy of continuous growth through own efforts, the company is a reliable partner for its customers. www.hilscher.com
Featured Product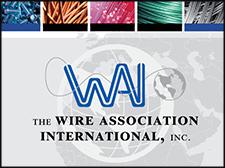 INTERWIRE will bring you back to the future of wire making with an Industry 4.0 theme. Automation, AI, robotics, data analytics, and machine learning affect the way wire is made and how well companies compete on the world stage. Ready or not, change has arrived. You are invited to INTERWIRE to explore what is imminent, what is here to stay, and what these changes mean for your plant, personnel, and production goals. Visit often for developing details on the industry 4.0 Pavilion, speakers, conference sessions, production demos, exhbits, and an inspiring new format.