Dwayne Somers to represent Cementex in the Western U.S.
Burlington, NJ - Cementex, the safety tool specialists, announces that the company has hired Dwayne Somers as the new Regional Manager for the Western U.S. Somers, based out of Phoenix, AZ, will help to provide customers with critical information about the company's industry-leading safety tools.

Somers has an extensive background in sales and customer service, including in the telecommunications industry. Working alongside Franko Gregory, the Cementex marketing manager for the Eastern U.S., Somers will work with Cementex experts, representatives, and customers to provide detailed product knowledge, technical support, and specialty assistance for customers within the Western Regions. He will also work with customers around compliance with insulated hand tools and ARC Flash PPE.
All Cementex products are made in the U.S.A. to the highest standards of quality. For more information about Cementex's industry-leading products, visit our online catalog.
###
About Cementex
Cementex is the innovative, industry-leading supplier of safety hand tools. As the only double-insulated hand tool supplier that controls the entire manufacturing process from insulation through testing, Cementex has an unparalleled commitment to quality and user safety. With constant innovation in response to customer needs, Cementex is on the cutting-edge of both custom and turn-key engineered insulated tools. The design-driven company is continually innovating while remaining committed to producing only the highest quality safety-based products. For all of your safety equipment needs, including tools, personal protective equipment, and more, turn to the experts at Cementex. Visit www.cementexusa.com or call 1-800-654-1292 for additional information.
Featured Product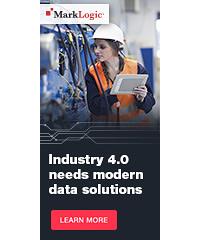 Use Data to Deliver Efficiency, Reduce Risk, and Create Better Products. Disruptive technologies and market changes are transforming the manufacturing industry, requiring a new focus on optimizing use of data and information. It all adds up to a new industrial revolution called Industry 4.0. Organizations who want to realize the potential of this revolution need to "Industrialize their data," making it a core asset to deliver better products and customer service, navigate complex business environments, and transform for the future. MarkLogic customers are delivering on this vision for data with a proven architectural pattern called the Operational Data Hub that simplifies the integration of data along the digital thread to power operational and analytic use cases across the enterprise.