Ultra Consultants and SYSPRO USA Present Informative Webinar Session Geared to Manufacturing, Distribution Project Teams
CHICAGO - April 18, 2019 - Ultra Consultants, Inc., an independent research and enterprise solutions consulting firm serving the manufacturing and distribution industries, presents an informative webinar session geared to project teams from the manufacturing and distribution sectors who are evaluating an active ERP project. With special guest SYSPRO USA, the one-hour webinar is titled ERP Grows Up: How the Right ERP Software Can Attract the Next Generation Workforce and takes place Thursday, May 2, 2019 at 2 p.m. ET (1 p.m. CT).

The current digital shift in the manufacturing and distribution industries encourages decision-makers to examine a new way of conducting business that fits a multigenerational talent pool. Engaging a millennial workforce through digital transformation initiatives — while continuing to support the team that helped build the business — can be daunting.
The webinar is designed to empower a cross-generational team to surface the caliber of data that supports your next-generation customer base.
Attendees will leave the session with the following takeaways:
• What next-generation ERP engagement looks like through a live software demonstration
• How to identify if your ERP system acts as a true system of engagement
• Insight on how Industry 4.0 technologies such as social collaboration, AI, and Bots drive customer success
• Why choice and flexibility in the workplace are vital to attracting and maintaining next-generation talent
• How the ability to surface meaningful data and actionable business insights will boost business and stimulate profits
Register to attend and receive an archived recording of the event.
About SYSPRO
SYSPRO is a global, independent provider of industry-built ERP software designed to simplify business complexity for manufacturers and distributors. Focused on delivering optimized performance and complete business visibility, the SYSPRO solution is highly scalable, and can be deployed on-premise, in the cloud, or accessed via a mobile device. SYSPRO's strengths lie in a simplified approach to technology, expertise in a range of industries, and a commitment to future-proofing customer and partner success. SYSPRO has more than 15,000 licensed companies in over 60 countries across six continents. https://us.syspro.com/
About Ultra Consultants
Ultra Consultants is an independent research and enterprise solutions consulting firm serving the manufacturing and distribution industries throughout North America, as well as companies with global operations. Since 1994, Ultra has delivered enterprise technology expertise and process management to drive business performance improvement for our clients. More information on the company's services, leadership, industry verticals served, and software vendor relationships can be found at http://www.ultraconsultants.com.
Featured Product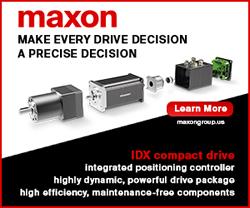 maxon motor launches new high-speed motors that are configurable online. The new ECX brushless motors are quiet and feature very high efficiency. The ECX motors are available with diameters of 8, 16 and 19 mm achieving speeds of up to 120,000 rpm. They run very smoothly and are highly efficient. With maxon motor's online configurator, it is easy to put together a customized DC motor to include gearhead, encoder and controller. The customized motors are ready to ship in 11 days!