SouthCon to represent Cementex in the Southeast U.S.
Burlington, NJ - Cementex, the safety tool specialists, announces that the company has a new Manufacturer's Representative for the Southeast Region. With this new partnership, Cementex looks forward to continued growth in the Southeast region of the U.S.

SouthCon, a highly respected representative within the safety tool industry, began representing Cementex in August of 2018. SouthCon will represent Cementex to all customers in the Southeast region, which includes all of Mississippi, Alabama, Georgia as well as Florida west of and bounded by the Apalachicola River.
Customers can contact SouthCon's general offices in Alabama at (205) 324-8656 or in Georgia at (770) 242-8222, or can find more information at http://www.southcon.net.
All Cementex products are made in the U.S.A. to the highest standards of quality. For more information about Cementex's industry-leading products, visit our online catalog.
###
About Cementex
Cementex is the innovative, industry-leading supplier of safety hand tools. As the only double-insulated hand tool supplier that controls the entire manufacturing process from insulation through testing, Cementex has an unparalleled commitment to quality and user safety. With constant innovation in response to customer needs, Cementex is on the cutting-edge of both custom and turn-key engineered insulated tools. The design-driven company is continually innovating while remaining committed to producing only the highest quality safety-based products. For all of your safety equipment needs, including tools, personal protective equipment, and more, turn to the experts at Cementex. Visit www.cementexusa.com or call 1-800-654-1292 for additional information.
Featured Product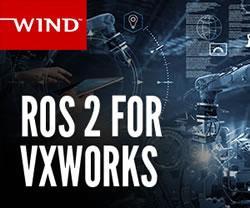 Develop new robotic capabilities with ROS 2 for VxWorks. ROS 2 for VxWorks® project provides custom modifications and build scripts to integrate the Robot Operating System 2 (ROS 2) framework with VxWorks 7. ROS 2 is a set of software libraries and tools that aid in building robot applications. Build ROS 2 for VxWorks using 1) with a VxWorks SDK that is available on the site under a free non-commercial use license; or via 2) with a commercially-licensed VxWorks product.