Calnex Solutions Ltd today shipped the industry's first ever 400GbE Synchronous Ethernet (SyncE) Jitter & Wander measurement solution to a major North American equipment manufacturer.
The Paragon-400G enables the jitter and wander performance of 400GbE SyncE network equipment to be validated.

The ITU-T standard for SyncE (G.8262) has strict limits for both Jitter Tolerance and Jitter Generation. It's vital that network equipment can tolerate the levels of Jitter specified by G.8262 and that equipment does not generate jitter above the limits specified by G.8262.
"With 5G networks about to be deployed, Service Providers are preparing to deploy even higher speed core networks, and Ethernet synchronisation is crucial for the end-to-end operation of these systems. Without being able to validate 400GbE SyncE performance, Equipment Manufacturers, cannot ensure their equipment will perform and comply with the SyncE standards" said Tommy Cook, Calnex CEO. "The Paragon-400G is the only test solution able to make the synchronisation and jitter measurements required to verify 400GbE SyncE jitter and wander standards compliance."
Paragon-400G is the first instrument to enable testing of SyncE technologies at 400GbE according to ITU-T G.8262.
Featured Product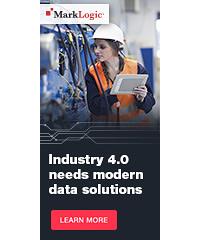 Use Data to Deliver Efficiency, Reduce Risk, and Create Better Products. Disruptive technologies and market changes are transforming the manufacturing industry, requiring a new focus on optimizing use of data and information. It all adds up to a new industrial revolution called Industry 4.0. Organizations who want to realize the potential of this revolution need to "Industrialize their data," making it a core asset to deliver better products and customer service, navigate complex business environments, and transform for the future. MarkLogic customers are delivering on this vision for data with a proven architectural pattern called the Operational Data Hub that simplifies the integration of data along the digital thread to power operational and analytic use cases across the enterprise.