The Ideal Way to Assure a Good and Positive Ground When Terminating Shielded RJ45 Connectors
NEWBURY PARK, Calif., March 21, 2019 - Platinum Tools® (www.platinumtools.com), the leader in solutions for the preparation, installation, hand termination and testing of wire and cable, is proud to announce the launch of the new Copper Foil Strips (p/n 2039). The new EMI/RFI shielding strips are now available.

"Platinum Tools Copper Foil Strips consist of a copper foil backing and conductive adhesive," explained Lee Sachs, Platinum Tools, Inc. president and general manager. "They are supplied on a removable paper sheet for easy handling, and are typically used as an EMI / RFI shielding for applications in the electronics industry such as static charge draining, seaming shielded rooms, cable wrapping, and surface contact to non-solderable materials. These copper foil strips work perfectly with all the Platinum Tools Shielded RJ45 Connectors and Shielded Keystone Jacks."
Platinum Tools Copper Foil Strips come 10 strips per sheet (10 sheets per pack) with an MSRP of $7.95.
For additional pricing and more information on Platinum Tools and its complete product line, please visit www.platinumtools.com, call (800) 749-5783, or email info@platinumtools.com.
About Platinum Tools
Platinum Tools, founded in 1997, was created based upon two very simple objectives. First, develop the absolute best possible solutions for the preparation, installation, and hand termination of wire and cable. Second, implement an operational infrastructure that can deliver these products in an efficient, timely, and high quality manner.
All of our products must absolutely satisfy three critical benchmark criteria…utility of function; quality of function; and economic value. Our people are our company. They, too, must be focused on and work to satisfy three critical benchmark criteria…customer satisfaction; product knowledge and expertise; and willingness to learn and adapt.
# # #
Featured Product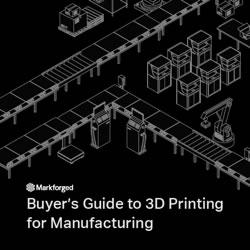 3D printing has become a powerful force in today's manufacturing industry from prototyping to tooling and fixtures to custom, end-use parts. Many businesses struggle to find the right solutions to fit their needs and provide ROI. Selecting the right platform to prevent manufacturing roadblocks is vital to optimizing your manufacturing line productivity. Download the all new buyer's guide to help you evaluate the benefits of 3D printing and dispel misconceptions, understand the pros/cons of various 3D printing processes and materials, and assess the key considerations in selecting a 3D printer.