On 28.2.2019, the IGE (Institute for Intellectual Property) Bern granted the first of several national and international patents from CAD Software Solutions for the simplification of 3D data.
After lengthy and time-consuming international research, it was thus recognized that the data reduction process developed by CAD Software Solutions is new and unique in the sense of the relevant laws. Thus, the granting of further patent applications relating to this patent, nothing stands in the way.

The patent describes the process for the fully automated and dynamic simplification of 3D CAD data. This method makes it possible to simplify CAD data from very large assemblies in such a way that they are displayed in the best possible quality and performance even in web applications, on mobile devices as well as in VR, AR, WMR or XR apps. A key element in this regard is the dynamic simplification of CAD geometries. This unique process simplifies elements to be displayed depending on their size, topology and hierarchical position within the assembly structure. Thus, an optimal result in terms of quality and amount of data to be displayed is achieved. Assemblies with significantly more than 10'000 individual parts can be simplified fully automated and visualized in applications for web and desktop applications as well as in apps for mobile devices.
The corresponding tools SPP Toolkit for Autodesk Inventor and a Unity3D package for the Unity3D development environment are available from CAD Software Solutions.
More Info at www.sparepartsplace.com or mail to info@sparepartsplace.com
Featured Product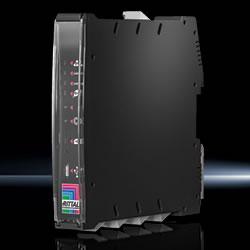 Rittal Blue e+ cooling units are currently the most efficient of their kind on the market. Besides being 75 percent more energy-efficient than previous cooling solutions on average, the units also excel in terms of connectivity, safety and handling.   What's more, their IoT interface enables Blue e+ units to link to customer-owned monitoring, energy management and/or superordinate systems via OPC-UA, Profinet, SNMP, Modbus TCP and CANopen, enabling predictive maintenance, data analytics and more.