ANCA is excited to unveil their new website – anca.com - that is packed with intuitive features to provide an improved user experience
February 2019: The website is the door to the ANCA brand, products, services and company culture. With a fresh look and an intelligent design, it has been redesigned and rebuilt with the customer's needs as the core driver.

The resulting site completely overhauls ANCA's blog and content offerings, product pages as well as giving a smoother, more intuitive user experience. Fully responsive, and multi-lingual the new website gives users a seamless transition from desktop to mobile browsing, and intelligently pulls the latest content from the new blog space for users to access quickly and easily.
Sepideh Zandieh, ANCA Digital Marketing Strategist drove the project with Kudos as the digital agency. Sepideh said, "The website redesign was conducted from the ground up. We took it back to the drawing board to flesh out what we wanted our new website to achieve and built it around what our customers and other stakeholders would expect from a website in today's digital era. We wanted to clearly articulate our story and share our expertise as a global market leader."
"You will find a modern design that incorporates a number of user-friendly features - including more use of video - designed specifically for the ANCA audience and helps us to bring our brand to life online."
"We have also found that our customers are highly digitally savvy. ANCA's social media community is flourishing as a result of the passion of tool makers to share ideas and knowledge with their peers and the basic motivation to show off the beautiful products," Sepi concluded.
Kudos said: "It has been a fascinating journey to discover ANCA and why it is a world leading manufacturer of CNC grinding machines, motion controls and sheet metal solutions. Working closely with their digital team we started again to reimagine a platform that better communicates the capabilities of the entire business. B2B companies that are savvy enough to embrace the opportunities digital marketing presents can easily realise sales and reputational gains more efficiently and with significantly greater reach. This new site definitely puts ANCA streaks ahead of its peers and provides a competitive edge in the hunt for quality people and new business."
One brand, one website
The new site brings all three ANCA product ranges to a single site to showcase our global capabilities to customers, talent and other stakeholders. The new corporate page tells the companies story, a business that invents cool technology, employs the best people and has a strong heritage in the marketplace.
Interactive design with easy navigation
Keeping our customers in mind, we have built interactive pages to:
• Easily find product information
• Compare machines and accessories with the touch of a button
• Read related articles or see accessories that give further information about the machine you are looking at
• Find the tradeshow where customers can physically see the ANCA technology in action
• Get a contact name and address for your local ANCA team in seconds
Multi lingual
ANCA is a global company and has customers based in almost all regions around the world. The website has been launched in English, Chinese and German and over the next couple of months it will be updated with Korean, Japanese, Polish, Italian, Spanish and French.
Find the products customers' needs for the tools they want
ANCA's customers are the expert in tools and ANCA are the expert in machines. Having been around for almost 50 years ANCA know a fair bit about grinding tools and automation, and we want to share all their expertise with our customers so that they can grind tools that last longer, look more elegant and perform better. The new Applications section makes it easy to find what machine, software or accessory to grind a specific tool.
Stay informed and inspired
The refreshed News & Media section makes it simple to find and learn with the latest information on product releases, tips on creating the perfect grinding facility, whitepapers on how to prepare for leveraging the benefits of the cloud. Information is power and ANCA wants our customers to be powerful!
Lift the lid on ANCA's culture
And finally, but just as importantly, the new website is a chance to virtually meet the team that make ANCA the fantastic company it is. Their culture is key to successes and their teams work hard while having fun along the way. Lift the lid on what makes ANCA great, see how the business gives back to local communities and find a new role with the ANCA team.
Featured Product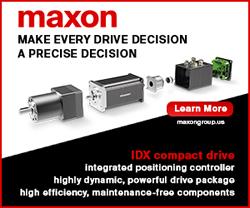 maxon motor launches new high-speed motors that are configurable online. The new ECX brushless motors are quiet and feature very high efficiency. The ECX motors are available with diameters of 8, 16 and 19 mm achieving speeds of up to 120,000 rpm. They run very smoothly and are highly efficient. With maxon motor's online configurator, it is easy to put together a customized DC motor to include gearhead, encoder and controller. The customized motors are ready to ship in 11 days!