Basler will showcase the newest interface standard CoaXPress 2.0, the in-camera image optimization features, the newest Vision System Configurator tool, the MED ace and the latest ace models.
Exton, January 10, 2019 - Basler will present the latest machine vision technology products and tools at SPIE Photonics West 2019 in San Francisco from February 5 till February 7.

CoaXPress 2.0, the latest standard in machine vision, will be the topic of a live presentation by Basler's support engineer Sean Pologruto. He will explain how the new camera architecture achieves higher resolution and faster framerate while reducing CPU load and avoiding bandwidth bottlenecks. The CoaXPress 2.0 standard has just been released and it opens new opportunities in the performance segment of machine vision.
In-camera features that preprocess the image in the camera will be featured in the second live presentation by Sean Pologruto. He will show you five essential features: nice image with one click, sharpness and contrast enhancement, color adjustment, creating multiple regions of interest, and automating complex scenarios. Such features preprocess the image data in the camera instead of sending it to the PC and this creates a higher quality image, reduces the CPU load and speeds up the overall process.
The Vision System Configurator will be one of the highlights of Basler's booth (#4479). This newest online tool will be released just before the show start, in January 2019. It reduces complexity in the search of the optimal combination of vision components (camera, lens, cables, etc.). The Configurator creates a convenient user experience and visitors of the booth will be able to test it with help from Basler staff and provide their feedback.
Stacked ROI, one of the latest in-camera features, will be the topic of another demo. It allows to specify up to 8 different regions of interest. This helps to focus only on the relevant parts of the inspected object and frees up bandwidth and CPU load.
The MED ace, Basler's first camera series designed for medical and life sciences applications and produced under the DIN EN ISO 13485:2016 quality management system, will also be featured at the booth. This series brings superior CMOS technology to this industry that just started its transition from CCD to CMOS. The MED Feature Sets provide outstanding performance and ease-of-use: e.g. powerful auto functions for brilliant image quality, a complete and true color calibration within seconds and a long exposure mode to minimize noise under low light conditions.
Basler will also show new ace models: four 20 MP ace U models based on the IMX183 sensor from Sony's Exmor R series; the new ace U camera which enables a 1:1 replacement of cameras featuring Sony's discontinued ICX618 CCD sensor.
Basler booth number: 4479.
Live presentations:
Higher resolution and faster framerate with CoaXPress 2.0
Date: Tuesday, February 5, 2019
Time: 2:30 PM - 3:00 PM
Location: Demo Area 1 (Hall ABC South)
How you can use in-camera features to reduce costs and boost performance
Date: Wednesday, February 6, 2019
Time: 2:30 PM - 3:00 PM
Location: Demo Area 1 (Hall ABC South)
More Information: www.baslerweb.com/photonicswest2019
Basler is a leading manufacturer of high-quality cameras and camera accessories for industry, medicine, traffic and a variety of other markets. The company's product portfolio encompasses area scan and line scan cameras in compact housing dimensions, camera modules in board level variants for embedded solutions, and 3D cameras. The catalog is rounded off by the user-friendly pylon SDK plus a broad spectrum of accessories, including several developed specially for Basler and optimally harmonized for their cameras. Basler has three decades of experience in computer vision. The company is home to approximately 600 employees, at its headquarters in Ahrensburg, Germany, and at its subsidiaries and sales offices in Europe, Asia, and North America.
For more information, please contact us at +1 610 280 0171, e-mail us at sales.usa@baslerweb.com, or visit us on the web at www.baslerweb.com.
Featured Product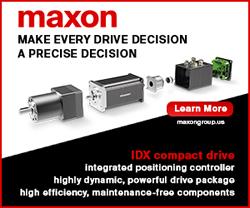 maxon motor launches new high-speed motors that are configurable online. The new ECX brushless motors are quiet and feature very high efficiency. The ECX motors are available with diameters of 8, 16 and 19 mm achieving speeds of up to 120,000 rpm. They run very smoothly and are highly efficient. With maxon motor's online configurator, it is easy to put together a customized DC motor to include gearhead, encoder and controller. The customized motors are ready to ship in 11 days!