Quartic.ai, a full-stack industrial AI and IIoT provider, announced today that they have joined the Industrial Internet Consortium® (IIC™), the world's leading organization transforming business and society by accelerating the adoption of the Industrial Internet of Things (IIoT).
Quartic.ai places the power of AI directly in the hands of plant subject matter experts (SMEs) with their complete Smart Industry platform for process manufacturing industries implementing digital transformation with AI and IIoT. Built specifically for manufacturing users, the Platform, consisting of a contextual IIOT data pipeline, illuminator™ and the intelligence engine, eXponence™ makes AI deployment easy, to integrate seamlessly with OT systems, and to provide distributed machine learning at the Edge, Fog and in the cloud.

"As end-users look to evaluate new platforms for IIoT, machine learning and analytics, guidelines and standards like the Industrial Internet Reference Architecture (IIRA) and RAMI4 provide the necessary structure and foundation to evaluate and implement emerging technologies, modernize their existing infrastructure and build smart manufacturing for the future," said Rajiv Anand, CEO of Quartic.ai
"As a new technology company, we had the benefit of building a modern and futuristic platform from the ground-up so we used the IIC Reference Architecture as the guiding framework. At the same time, we need to help our customers preserve their investments in the legacy OT infrastructure during digital transformation. IIC's specific focus on legacy infrastructure connectivity offers further alignment to our technology philosophy," noted Akshaya Aron, Chief Product Officer at Quartic.ai
"The machine learning and streaming analytics for industrial applications required some very specific considerations. While we have built our machine learning applications using common commercial approaches such as the Apache Foundation, the IIC Analytics Framework provided useful guidance particularly for our distributed learning approach including edge analytics. The recent alignment of IIC with the OpenFog Consortium will bring even more clarity in this area," said Xiaozhou Wang, Chief Data Scientist of Quartic.ai.
Building modern IIoT platforms using IIC guidelines as a reference provides clarity to end-users and is in their long-term interest," said Dr. Richard Soley, Executive Director, Industrial Internet Consortium. "We commend companies like Quartic.ai who are assisting end-users with IIoT adoption while at the same time respecting their legacy infrastructure. We look forward to having Quartic.ai as a member of the IIC and to the contributions they will make."
About Quartic.ai:
Founded in 2016 by process manufacturing automation veterans, leading data scientists and highly successful Silicon Valley entrepreneurs, Quartic.ai supplies a complete OT focused Artificial Intelligence (AI) and IIOT platform that allows subject matter experts to build real-time AI applications with zero code and without extensive data science experience.
Featured Product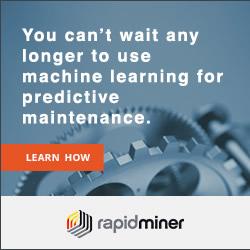 RapidMiner offers a data science platform that's built to enable people of all skill levels across the enterprise to quickly build and operate AI solutions to drive hard ROI for their organizations. Many data science tools are built to create accurate models, but cannot help manage the models into production, where they can have an impact. The platform covers the full lifecycle of the AI production process from data exploration and data prep to model building, model deployment and model operations. RapidMiner can help with a wealth of manufacturing use cases, like designing smart products, running smart factories, forecasting demand, ensuring quality, reducing production downtime, and managing supply chain risk.