New MDR modules eliminate the requirement to use a proprietary MDR drive control system
Molex introduces new HarshIO Industrial Ethernet I/O Modules, allowing programmable logic controllers to connect to motorized drive rollers over an Ethernet fieldbus. This is done without requiring a proprietary system specific to one MDR manufacturer, pending the application and MDR type in use. This product is designed for system builders, integrators and end-users designing conveying lines for factory automation, material handling and baggage handling applications.

The modules feature a metallic plate for functional grounding; 4-pole and 5-pole power connector versions; Ultra-Lock M12 connectors; an IP67 seal; eight digital channels; four motor drive roller channels; diagnostic LEDs; three rotary switches; a two-port Ethernet switch; an Ethernet metallic plate to allow both ODVA and PI grounding strategies; and Ethernet fieldbus connectivity.
"Currently, no product identical to this exists in the market," said Eric Gory, global product manager, Molex. "The new Molex modules will give customers better quality operations thanks to timely predictive maintenance, less downtime, faster troubleshooting, and data collection that helps prioritize operator efforts."
Compared to similar products, Molex MDR Modules simplify systems by controlling up to four MDRs on one module. The product also auto-detects both ITOH DENKI PM500XE/XP and INTERROLL EC310 MDRs and offers active MDR protection through smart energy dissipation.
For more information about HarshIO Industrial Ethernet I/O Modules for Motorized Drive Rollers, please visit www.molex.com/link/harshio.html.
About Molex:
Molex brings together innovation and technology to deliver electronic solutions to customers worldwide. With a presence in more than 40 countries, Molex offers a full suite of solutions and services for many markets, including data communications, consumer electronics, medical, industrial, automotive, and commercial vehicle. For more information, please visit www.molex.com.
Molex Resources:
Learn more about Molex at www.molex.com
Follow us at www.twitter.com/molexconnectors
Watch our videos at www.youtube.com/molexconnectors
Connect with us at www.facebook.com/molexconnectors
Read our blog at www.connector.com
Molex is a registered trademark of Molex, LLC in the United States of America and may be registered in other countries; all other trademarks listed herein belong to their respective owners.
Featured Product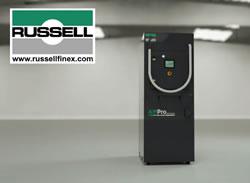 The Russell AMPro Sieve Station™ guarantees the quality of your additive manufacturing (AM) powder, and has been designed to provide optimum sieving efficiency, ensuring your powder is ready for use or reuse as and when you require it. With a simple one-button operation and mobile design, this automated check screener ensures your powder at every stage of the process is qualified for use quickly and safely. The flexibility of the Russell AMPro Sieve Station™ means you can use the system for numerous powder handling tasks - being a modular design ensures the machine can be configured to meet your exact requirements.