Ideal for use in operationally critical and environmentally sensitive applications
Radolfzell, Germany - Allweiler, a CIRCOR International brand, and a worldwide supplier of pumping solutions for chemical engineering applications, announces the IN-1000 condition monitoring device, ideal for pumps in operationally critical and environmentally sensitive chemical engineering applications. With one master and up to 10 satellite modules per network, the IN-1000 lets operators monitor as many as 11 pumps at once. Built-in features include a two-level warning and alarm system, logging of sensor data, and remote monitoring with a smartphone app. The IN-1000 is available with ATEX certification for use in EX zones.

With the IN-1000, operators can assess expected versus actual performance on such key indicators as leak detection and bearing temperature, vibration, suction, and discharge pressure. The "smart platform" IN-1000 can be used for a wide range of condition monitoring applications, from simple, single-pump installations to complex, multi-pump systems. It can be added to new pumps or retrofitted to existing pumps.
Plant professionals can immediately detect deviations and anomalies from established leak detection values, so any dangerous seal leaks can be remedied before they even happen. Depending on the situation, operators receive a visual notification and an audible warning or alarm, signaling the need for immediate intervention, or simply scheduling maintenance so that a fixable problem does not worsen. This means plant professionals can pre-plan maintenance and repairs, extend maintenance intervals, and potentially reduce insurance premiums as the overall safety profile improves.
Remote access is enabled with a smartphone app, an integrated web server and router, making it possible to monitor as many as 11 pumps from anywhere with Wi-Fi access.
The IN-1000 condition monitoring device is now also available for EX zones, with certifications for operation in ATEX Zone 2, Class 1, Division 2. All components, from measuring devices and cables to the barrier box, are certified for EX zones.
For more information on the IN-1000, visit http://www.circorpt.com/industrial-smart-technology-in1000.
###
CIRCOR International, Inc.
CIRCOR International, Inc. (NYSE: CIR) designs, manufactures, and markets a comprehensive range of flowcontrol products and sub-systems for customers in power generation, aerospace, defense, and industry. CIRCOR owns a broad portfolio of renowned, market-leading brands (Allweiler®, Houttuin™, Imo®, Leslie Controls, RTK, Schroedahl, Tushaco®, Warren®, and Zenith®) that fulfill the business-critical requirements of their customers.
Featured Product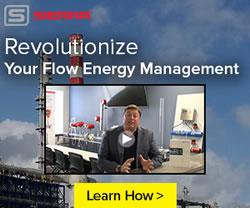 Sierra Instruments announces the launch of its new flow energy solution for managing and optimizing flow measurement for industrial facilities of all sizes. It features Sierra's QuadraTherm 640i/780i thermal flow meters, their InnovaMass 240i/241i vortex flow meters, and their new InnovaSonic 207i ultrasonic flow meter. Designed, built, and calibrated in the USA by Sierra, the Big-3TM share the same revolutionary Raptor firmware and many of the same software apps. They are a complete flow energy solution for flows like compressed air, natural gas, steam, and hot and chilled water. Together, they set a new standard in ease-of-purchase, performance, accuracy, reliability, and ease of use.