On-demand manufacturing leader now offers instant quotes on production-grade custom parts made with HP Multi Jet Fusion technology
Xometry, the largest on-demand manufacturing network platform, announced today that it will now offer HP Multi Jet Fusion technology as a 3D printing process option. Customers can now get an instant quote, design feedback, and lead times for parts produced with HP Multi Jet Fusion technology through the Xometry Instant Quoting Engine℠.

HP Multi Jet Fusion is an advanced technology that offers a variety of advantages for prototyping and production relative to other 3D printing technologies including faster print speeds, higher part quality, greater material variety and voxel-level design capabilities including new color options. Xometry will offer Nylon 12, Nylon 12 glass-filled, and custom material options at launch.
"We're thrilled to add HP Multi Jet Fusion technology to Xometry's capabilities," said Randy Altschuler, Xometry's CEO. "Our additive customers have been asking us for it due to its reputation for speed and quality." Xometry is offering HP Multi Jet Fusion technology in addition to other industrial additive manufacturing processes including Selective Laser Sintering (SLS), Stereolithography (SLA), Fused Deposition Modeling (FDM), Direct Metal Laser Sintering (DMLS), and PolyJet.
About Xometry
Xometry is transforming custom manufacturing through a proprietary software platform which offers on-demand manufacturing to a diverse customer base, ranging from startups to Fortune 100 companies. It provides product designers and engineers the most efficient way to source high-quality custom parts, with 24/7 access to instant pricing, expected lead time and manufacturability feedback. Xometry's nationwide network of over 2,500 partner manufacturing facilities enables it to maintain consistently fast lead times while offering a broad array of capabilities, including CNC Machining, 3D Printing, Sheet Metal Fabrication, Injection Molding, Urethane Casting, Die Casting, Stamping, and Extrusion. Xometry has over 12,000 customers, including BMW, General Electric and NASA.
Featured Product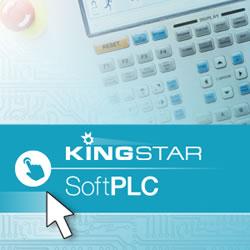 The top machine builders are switching from proprietary hardware-based PLCs, like Allen-Bradley, TwinCAT, Mitsubishi and KEYENCE, to open standards-based EtherCAT-enabled software PLCs on IPCs. KINGSTAR provides a fully-featured and integrated software PLC based on an open and accessible RTOS. KINGSTAR Soft PLC also includes add-on or third-party components for motion control and machine vision that are managed by a rich user interface for C++ programmers and non-developers alike.