Drilling holes in structural steel can present unique challenges, especially when machining through stainless steel plates & beams. Allied launches a replaceable drill insert distinctly engineered to provide longer tool life, better run rates and high-quality holes in structural steel applications. The upgraded carbide insert has been completely redesigned to improve your throughput and cut operational costs by extending life and increasing penetration rates.
Dover, OH - Allied Machine & Engineering, a leading manufacturer of holemaking and finishing tooling systems, announces the release of their newest GEN3SYS® XT Pro high penetration insert designed specifically for beam and plate production in the structural steel market. With an exclusive combination of substrate and multilayer coating, the insert is engineered to withstand the heat generated while drilling in structural steel beams or plates in high production facilities. Optimized in their existing structural steel holders, Allied's high-tech structural steel insert improves chip formation and reduces vibrations creating a higher quality hole.

The unique composition of carbide grade, geometry, and high temp coating are designed to run at or beyond current O.E.M. rates while offering extended tool life. The insert's simplified set up and extended tool life reduces changeover and increases throughput. "During beta testing, customers reported a significant reduction in noise as well as fewer signs of heat." Explains Andrew Pisorn, product manager for Allied's GEN3SYS XT Pro product line. "We've optimized the design of this particular insert to give machine shops and manufacturers a competitive advantage in structural steel holemaking. From better run rates and fewer tool failures, the stability of this insert provides increased capacity and most importantly increased profit for the customer."
Featured Product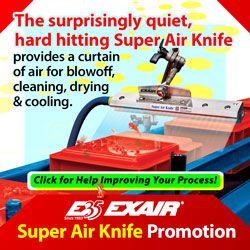 Replace messy mist systems - improve dry machining with clean, cold air! The Cold Gun Aircoolant System is a new solution to an old problem. Heat build up on dry machining operations reduces tool life and machining rates. The Cold Gun produces a stream of clean, cold air at 50°F (28°C) below supply air temperature. Operation is quiet and there are no moving parts to wear out. It will remove heat to prolong tool life and increase productivity on machining operations. The Cold Gun is also an alternative to expensive mist systems. It eliminates the costs associated with the purchase and disposal of cutting fluids and worker related health problems from breathing airborne coolants or slipping on wet floors. EXAIR's Cold Gun and High Power Cold Gun are non-adjustable to prevent freeze-up during use. Cold airflow and temperature drop are factory set to optimize the gun's cooling capability. See the Cold Gun in action at https://exair.co/watchcoldgun?pub=184