Absen Invests in MES to Embrace Industry 4.0
Absen recently announced the launch of a nearly $1.5 million (RMB 10 million) MES program at a kick-off meeting with the attendance of top executives from Mitsubish, SAP and Foreverwin. The program will help Absen drive deeper digital transformation, improving manufacturing and management efficiency and reducing cost and carbon footprints.

Aiming to make its factory digitalized, networked and intelligent, Absen joins hands with Mitsubishi, SAP and Foreverwin to develop the MES solutions powered by cutting edge IT systems. The company chose the global top 500 enterprise Mitsubishi for professional management consultancy service and the supervisory control and data acquisition (SCADA) system, and selected SAP for software systems and Foreverwin as the solution executor.
Mitsubishis advanced SCADA system delivers the best visualization solutions to the automation market, helping to maintain efficiency, process data for smarter decisions, and communicate system issues to help mitigate downtime.
Intelligent manufacturing will be developed on the basis of big data, said Zhang Jian, MES project manager of Mitsubishi. Mitsubishi will offer in-depth analysis report on Absens manufacturing facility and a comprehensive plan for driving intelligent manufacturing. The plans and solutions will be carried out with the help of SAP, and Foreverwin, the expert in executing MES solutions.
Absen boasts an industry-leading LED display factory, Absen Manufacturing Base, which features the worlds most advanced automated product lines of LED panels. (Click here to watch the video) The annual production capacity of LED panels reaches up to 300,000 square meters. The manufacturing facility is capable of producing LED displays zoning to indoor fixed and narrow pixel pitch products, outdoor products and rental products.
In 2007, Absen started the reform of digitalization, changed the enterprise management model and created transparent management procedures by introducing more than ten IT systems including Enterprise Resource Planning (ERP), Office Automation (OA), Customer Relationship Management (CRM), Business Intelligence (BI), and SAP ERP and so on.
"The application of SAP ERP has seen significant improvement of management efficiency in wide array of production, manufacturing, planning and financing etc., but there are still room for improvement by solving problems like difficulty in capturing production data efficiently", said the VP of Absen, Ding Chongbing at the kick-off meeting, "wed like to extend the reform to the production and manufacturing and carry out MES solutions".
The MES solution is expected to connect Absens fundamental manufacturing facilities and ERP system more closely. It will Increase visibility across the manufacturing network by removing the nightmare of fragmented, inconsistent and inaccessible manufacturing operations data which are often distributed across paper, spreadsheets, various computer applications and databases etc. The solution will also help reduce the operational costs and drive efficiency across the plant in all aspects.
"The economic benefits from demographic dividends are disappearing and labor cost is increasing", said the MES program manager of Absen, Remen Wang, "well invest in innovation and technology and continue to be the role model of the industry to plan for the 'Made in China 2025 and embrace 'Industry 4.0 by making manufacturing digitalized, networked and intelligent".
Featured Product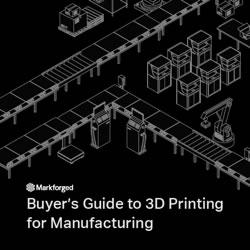 3D printing has become a powerful force in today's manufacturing industry from prototyping to tooling and fixtures to custom, end-use parts. Many businesses struggle to find the right solutions to fit their needs and provide ROI. Selecting the right platform to prevent manufacturing roadblocks is vital to optimizing your manufacturing line productivity. Download the all new buyer's guide to help you evaluate the benefits of 3D printing and dispel misconceptions, understand the pros/cons of various 3D printing processes and materials, and assess the key considerations in selecting a 3D printer.