Research study shows possibilities for additively manufactured lattice components in consumer products, industrial equipment, automotive, and aerospace
Fast Radius, the leading additive manufacturing company, partnered with the University of Illinois Urbana-Champaign on a research study examining and proving the production readiness of lattice materials through additive manufacturing.

Lattice structures are also known as architectured materials or mechanical metamaterials. These structures are lightweight and strong, and can have other benefits when integrated into a variety of products including spare aerospace parts, medical equipment and sports equipment. As an example, in 2018 Fast Radius used lattice structures to help reimagine the design of Steelcases award-winning SILQ office chair. Lattice structures were used to design, engineer and print a custom arm cap, aligning the design of the chair to complement human physiology.
"Engineers and product designers are excited to use lattice components in new product designs, but a lack of understanding of production readiness has been a major obstacle," according to Dr. William King, the leader of the study. Dr. King is Professor of Mechanical Science and Engineering at the University of Illinois and also serves as Chief Scientist at Fast Radius. "We found that over a large number of lattice parts in different materials and geometries, the accuracy of the printed parts is excellent, and the mechanical properties are close to what one would expect, based on design and engineering principles. We are excited to show that this technology is growing up, and is now production worthy."
In order to show production readiness of additively-manufactured lattices, the research team designed, manufactured, and tested 50 lattice parts in three materials and four geometric designs, the largest number of additively-manufactured lattice parts ever made and tested for a single study. The research team used optical scanning to measure the parts and automatically assess part quality - the first time this was ever done for lattice parts of any type.
"The ability to produce lattice structures is one of the most exciting opportunities for additive manufacturing," said Fast Radius CEO Lou Rassey. "Fast Radius sees huge demand for additively manufactured lattice components across our customers in consumer products, industrial equipment, automotive, and aerospace. With this study, we are excited to publicly demonstrate what many of our customers already know, which is that additive manufacturing is capable of producing high quality lattice components, repeatably and at scale."
The study is titled "Mechanical Properties of Hexagonal Lattice Structures Fabricated Using Continuous Liquid Interface Production Additive Manufacturing." In addition to Dr. William King, co-authors are David McGregor and Professor Sameh Tawfick, both from the University of Illinois Urbana-Champaign.
In September, Fast Radius was named one of the nine best factories in the world by the World Economic Forum (WEF), implementing "technologies of the Fourth Industrial Revolution."
Fast Radiuss technology platform and team of engineers help clients unlock value from additive manufacturing across a products lifecycle. The platform supports clients in identifying potential applications, conducting engineering and economic evaluations, accelerating new product development, and ultimately manufacturing industrial-grade parts in Fast Radius factories at scale with the latest additive technologies.
Featured Product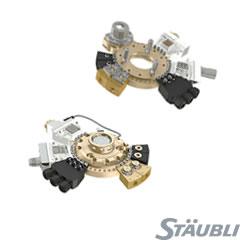 TX2 robots: redefining performance by offering collaborative safety and high performance in a single machine. These pioneering robots can be used in all areas, including sensitive and restrictive environments, thanks to their unique features. Safety functions are easy and inexpensive to implement. They allow a higher level of interactions between robots and human operators, while still guaranteeing protection of your people, production and investment.