Will contribute to smart factory construction by realizing e-F@ctory solution with TSN technology
-Mitsubishi Electric Corporation (TOKYO:6503) announced today that it will launch factory automation products, such as programmable controllers, industrial PCs, servo amplifiers, GOT human-machine interfaces, inverters, and robots that are compatible with CC-Link IE TSN, the worlds first industrial open network to utilize time sensitive networking (TSN)* technology. CC-Link IE TSN supports TSN technology that ensures real-time control communication on the manufacturing communications layer, even when integrated with the upper level IT system and mixed with other open networks. The launch of these new product will further enhance the integrated factory automation solution e-F@ctory** by utilizing Industrial Internet of Things (IIoT) and edge-computing, accelerating the realization of a smart factory solution.

*
Enhanced version of standard Ethernet that realizes mixing of different protocols using the time sharing method.
**
Integrated factory automation solution using a combination of factory automation and IT technologies, offering solutions to reduce the total cost of development, production, and maintenance.
Main Features
1) Factory automation with TSN technology realizes flexible IIoT system architecture
Utilizing TSN technology enables integration of machine control and information communications on one Ethernet cable, allowing a flexible system configuration using standard Ethernet devices. TSN enables deterministic messaging of control communication requiring real-time control while performing information communication using general Ethernet, easily realizing large-scale industrial network systems.
Featured Product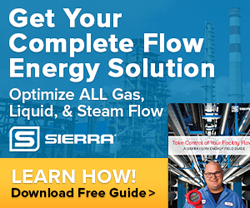 Download Flow Energy Guide - Written by Engineers For Engineers. Learn how to save on energy costs by optimizing your facility flows that impact costs like compressed air, natural gas, steam, and hot or chilled water.