Safety and protection products guard against forklift damage and protect rack system investment
Steel King Industries, Inc., a leading manufacturer of material handling systems for improving operational efficiency, announces the availability of several products that can help reduce maintenance costs and extend the life of rack systems. The companys safety and protection rack enforcement products include: Snap-Guard® and Column Core®, and its guard rail products include: Steel Guard®, Armor Guard®, Guard Dawg® and Mega Guard®. By utilizing these products, companies can protect the investment made in pallet rack systems and ensure safe usage over time.

Steel Kings SK Snap-Guard is an adjustable rack column protector for boltless rack that protects the upright rack column from forklift damage. Snap-Guard is constructed of structural angle and features an exclusive 4-rivet connection that automatically locks into the upright column. Adjustable, removable and flexible, Snap-Guard can be used to protect each storage level.
Column Core is a unique C-shaped column reinforcement that doubles the impact resistance of Steel King's SK2000 boltless pallet rack. With Column Core, the boltless pallet rack system retains full beam adjustability but reduced puncturing, buckling, and torsional twisting without additional installation costs.
The Steel Guard and Armor Guard guard rails protect people, products, and the physical plant from collisions. They feature a modular design that makes expansion or relocation easy, and effectively separate work stations and walkways from shop traffic. The guard rail systems feature universal posts with connection holes on three sides for added design flexibility.
With a bright industrial yellow paint finish and anchored to the floor, Guard Dawg is a highly visible and effective end-of-aisle protector for the prevention of fork truck-incurred damage. Its low-profile rack protection design makes it ideal for use at intersections and along high traffic routes.
Steel Kings Mega Guard is an all welded steel protector designed to help keep fork lift trucks and other in-plant vehicles from damaging facilities and equipment, all while protecting employees. Mega Guard acts as both a visual and physical barrier against costly damage, downtime, and injury.
Steel King also carries a full line of safety accessories including Safety Gates, which can be ordered as part of a new installation or retrofitted into an existing system. They gates are self-closing and include a hinge assembly on one side of the gate and two gate stops on the opposite side, for hanging in either direction.
For more information on safety and protection products, visit www.steelking.com.
###
About Us
Steel King Industries, Inc., is a leading manufacturer and integrator of material handling products and systems for improving operational efficiency in manufacturing, assembly, distribution centers, storage facilities, and warehousing.
Steel King is the nations only single-source manufacturer of pallet racks, drive in rack, flow rack, pushback rack, pick modules, mezzanines, cantilever racks, portable racks, industrial containers, custom shipping racks, and industrial safety guard railing.
Uniquely qualified to assist customers in planning and executing material handling systems, Steel King delivers reduced operation costs and increased customer satisfaction across a range of applications.
For additional information visit www.steelking.com or call 800.826.0203.
Featured Product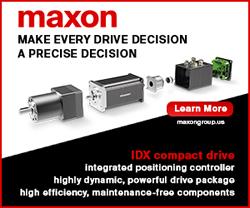 maxon motor launches new high-speed motors that are configurable online. The new ECX brushless motors are quiet and feature very high efficiency. The ECX motors are available with diameters of 8, 16 and 19 mm achieving speeds of up to 120,000 rpm. They run very smoothly and are highly efficient. With maxon motor's online configurator, it is easy to put together a customized DC motor to include gearhead, encoder and controller. The customized motors are ready to ship in 11 days!