Etihad Airways Engineering to install large-scale 3D printer Bigrep ONE to print parts and tooling, followed by a next generation Bigrep EDGE industrial 3D printer to develop, test and certify material for aircraft parts.
Berlin, 26 November 2018 - Bigrep, the global leader in large-scale 3D printing, and Etihad Airways Engineering have announced today that the airline MRO will deploy a Bigrep ONE 3D printer in its Maintenance, Operations and Repair facility at the Etihad home base in Abu Dhabi. The printer will be used in daily operations to print jigs, fixtures and (non-flying) parts on site and on demand.

Its arrival highlights the first phase in a partnership between Bigrep and Etihad Engineering established earlier this year, and will be followed by deploying the next-generation industrial 3D printer Bigrep EDGE, with the aim to jointly develop, test and certify new materials for 3D-printed aircraft cabin parts. With the introduction of the new industrial 3D printers PRO and EDGE, unveiled just two weeks ago, Bigrep is moving forward to the production of end-use parts for the aerospace industry.
Bernhard Randerath, Vice President Design, Engineering & Innovation of Etihad Airways Engineering says: "We are at the forefront of bringing this exciting technology into aviation and will work with our partners to ensure a successful certification of 3D printing technology, and with it towards the vision of a 3D-printed cabin."
Stephan Beyer, CEO of Bigrep GmbH, says: "Thanks to our 3D printers, we will accelerate the use of Additive Manufacturing in the aviation industry. With the Bigrep PRO and EDGE, we will be able to unfold the full potential of our technology, together with Etihad Airways Engineering. These machines offer an unprecedented level of precision, quality and speed, and enable us to use the high-performance, innovative printing materials the aviation industry requires."
As an innovation leader, Etihad Airways Engineering will leverage its experience around the aircraft cabin and will provide its design organisation approvals, as well as production organisation approvals and in-house flammability lab to test the 3D printed parts. In particular, Bigreps large-scale 3D printers are suited to printing large cabin parts with the possibility of a high level of customisation - one of the most challenging requirements in the airline industry.
In addition, the aim is to jointly develop and test new material grades in accordance with EASA and FAA criteria, as there is a need for a wider spectrum of AM-suitable polymer materials that can pass the aerospace certification process.
For further information on Bigrep, please visit: www.Bigrep.com
For further information on Etihad Airways Engineering, please visit: www.etihadengineering.com
-Ends-
About Etihad Airways Engineering
Etihad Airways Engineering is the largest commercial aircraft maintenance, repair and overhaul (MRO) services provider in the Middle East. As a subsidiary of the Etihad Aviation Group, the company offers maintenance services around the clock, including design, advanced composite repair, cabin refurbishment and component services, from its state-of-the-art facility adjacent to Abu Dhabi International Airport.
About Bigrep
Bigrep develops the worlds largest serial production 3D printers, creating the industry benchmark for large-scale printing with the aim to reshape manufacturing. Its award-winning, German-engineered machines are establishing new standards in speed, reliability and efficiency. Bigreps printers are the preferred choice of engineers, designers and manufacturers at leading companies in the industrial, automotive and aerospace sectors.
Through collaborations with its strategic partners - including Bosch Rexroth, Etihad Airways and Deutsche Bahn - and key investors - including BASF, Koehler, Klöckner and Körber - Bigrep continues to develop complete solutions for integrated additive manufacturing systems, as well as a wide range of printing materials on an open-choice source. Founded in 2014, Bigrep is headquartered in Berlin with offices in Boston and Singapore. Leading the way in one of the worlds key technologies, our multinational engineering teams are highly trained, interdisciplinary and customer-focused.
Featured Product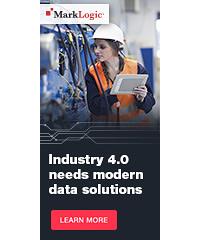 Use Data to Deliver Efficiency, Reduce Risk, and Create Better Products. Disruptive technologies and market changes are transforming the manufacturing industry, requiring a new focus on optimizing use of data and information. It all adds up to a new industrial revolution called Industry 4.0. Organizations who want to realize the potential of this revolution need to "Industrialize their data," making it a core asset to deliver better products and customer service, navigate complex business environments, and transform for the future. MarkLogic customers are delivering on this vision for data with a proven architectural pattern called the Operational Data Hub that simplifies the integration of data along the digital thread to power operational and analytic use cases across the enterprise.