LSS Laser-Sinter-Service GmbH selected ARKEMA Kepstan® PEKK material for its new RAPTOR 3D printing machines series to develop 3D Printing industrial applications in the field of E&E.
LSS and ARKEMA are cooperating to combine the differentiating features of the Thermomelt™ technology (details definition, accuracy and surface smoothness) and of Kepstan® PEKK (halogen free, low dielectric constant, high breakdown voltage) to serve the needs of the E&E industry.

The RAPTOR TM series features the Thermomelt™ technology, an Airbus patented AM process for high-performance industrial parts. This innovative technology is designed to become the market reference for homogenous mechanical performance, with a cost-effective use of high-temperature polymers.
ARKEMA Kepstan® PEKK is the material of choice in 3D printing for demanding industrial applications with a unique combination of excellent thermo-mechanical properties, superior chemical and fire resistance (low flame, smoke and toxicity).
"My previous experience on the 3D printing material business development side strengthened my conviction that the combination Machine/ Material is crucial. Being innovative means changing the rules, open innovation like the Z resistance delivered by RAPTOR TM is now a reality with LSS." says Ralph Rissé, Marketing & Business Development Director at LSS.
LSS is exhibiting at Formnext 2018 (Hall 3.1 Booth E31) and with a strategy to upscale Additive Manufacturing (AM) to the next industrial level. This partnership helps to position LSS as an emerging leader in laser sintering machines for industrial applications.
™ ThermoMeltTM is a trademark of Airbus S.A.S.
® Kepstan is a registered brand of ARKEMA
Featured Product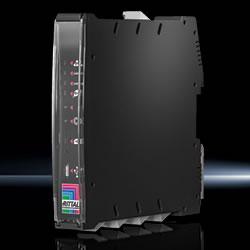 Rittal Blue e+ cooling units are currently the most efficient of their kind on the market. Besides being 75 percent more energy-efficient than previous cooling solutions on average, the units also excel in terms of connectivity, safety and handling.   What's more, their IoT interface enables Blue e+ units to link to customer-owned monitoring, energy management and/or superordinate systems via OPC-UA, Profinet, SNMP, Modbus TCP and CANopen, enabling predictive maintenance, data analytics and more.