Leeds-based Carbon Performance utilises Industry 4.0 technologies to spearhead innovation in the British Digital Manufacturing space and bringing innovation to Yorkshire, with an ultimate vision of bringing back advanced manufacturing to the United Kingdom.
Carbon Performance is disrupting the famed British automotive industry through its next generation, environmentally sustainable components, that are co-developed by Artificial Intelligence and 3D printed in metals and composites.

Being the world's first automotive consumer retail brand that is developing an entire range of products, built purely out of Additive Manufacturing, Carbon Performance is certainly at the forefront of Industry 4.0.
As part of our portfolio and to showcase our capabilities, we recently designed a suspension upright for a Lotus Elise sports car, in order to improve performance and reduce the weight of the component. Some of its features are:
1. 25% lightweight
2. 25% improved camber stiffness
3. Co-developed by AI
4. Organic, Bionic design
5. 3D printed in Aluminium
6. Integrated to Digital ecosystem/Digital thread (QR code) 7. Blockchain integrated Digital Inventory
8. 9 Parts consolidated into 1
Carbon Performance is currently pursuing an investment round to add more commercial automotive and motorsport applications into its portfolio to commence e-retail and retail through a brick-and-mortar model and bring manufacturing in-house. Carbon Performance was founded on two core principles of constant innovation and environmental sustainability and true to its vision, the company is proud to have pioneered Blockchain, the technology behind cryptocurrencies into its workflow, in order to prevent infringement of its Digital Inventory.
"We are a truly British company deeply engrossed into our vision of taking Additive Manufacturing into the retail shelves of the automotive industry."
- R N Murugesan, Director
"We are the world's 1st Automotive consumer retail brand built layer-by-layer with Additive Manufacturing"
What makes us different in this sea of 3D printing companies and startups? We do not just exhibit at the 3D printing expos around the world, but we have our components packaged and retailed to the general market. With our primary market being Motorsports and premium automotive companies, we are aiming to diversify into graphene, intelligent mobility solutions and finally sustainable energy transportation by 2020.
With the Automotive 3D printing industry to be worth £6.23 billion by the year 2024, we definitely are keeping up with the momentum to dominate the market and bring advanced manufacturing to the United Kingdom, more specifically north England, putting Yorkshire on the Innovation Map.
Twitter: https://twitter.com/cperformanceuk
Facebook: https://www.facebook.com/carbonperformancegb
LinkedIn: https://www.linkedin.com/company/carbon-performance-uk/ YouTube: https://www.youtube.com/channel/UCfwJFaL_W_m8bA1gFVTl84g/
Featured Product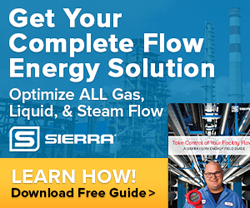 Download Flow Energy Guide - Written by Engineers For Engineers. Learn how to save on energy costs by optimizing your facility flows that impact costs like compressed air, natural gas, steam, and hot or chilled water.