The two companies will cooperate to develop simulation, design, assembly and testing of powertrain systems and components
Emerging needs from the electrification market require experienced, full-turnkey, affordable suppliers able to provide powerful assembly and test solutions for electric and hybrid vehicle manufacturing. To answer these challenges, AVL List GmbH, global leader of engineering, simulation and testing technology for powertrain systems, and Comau SpA, a leading company in industrial automation products and systems, have joined forces to offer innovative, modular and flexible solutions. As of January 1, 2018, AVL and Comau have an open cooperation in simulation, design, assembly and testing of powertrain components for electric as well as traditional vehicles.

The agreement will ensure customers have access to robust, standard solutions on a global scale, backed by a local presence, resulting in higher quality and a shorter time to market. The initial focus of the partnership will be on assembly systems and end-of-line testing for automotive batteries.
"Our Partnership brings together two market leaders in their respective fields. With shared objectives and complementary competencies we are able to offer our Customers the best of both worlds providing the market with a unique interface for the whole assembly process from design to execution," explains Andrew Lloyd, Automation Systems COO, Comau.
"The combination of know-how between Comau with its enhanced Industry 4.0 solutions and AVL, with design experience in the integration of powertrain components and related testing methodologies, will bring battery assembly and end-of-line testing to a new level," states Urs Gerspach, Executive Vice President, AVL List GmbH.
Featured Product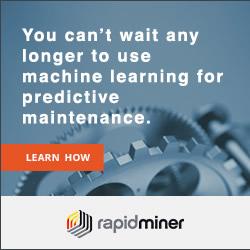 RapidMiner offers a data science platform that's built to enable people of all skill levels across the enterprise to quickly build and operate AI solutions to drive hard ROI for their organizations. Many data science tools are built to create accurate models, but cannot help manage the models into production, where they can have an impact. The platform covers the full lifecycle of the AI production process from data exploration and data prep to model building, model deployment and model operations. RapidMiner can help with a wealth of manufacturing use cases, like designing smart products, running smart factories, forecasting demand, ensuring quality, reducing production downtime, and managing supply chain risk.