The two companies will cooperate to develop simulation, design, assembly and testing of powertrain systems and components
Emerging needs from the electrification market require experienced, full-turnkey, affordable suppliers able to provide powerful assembly and test solutions for electric and hybrid vehicle manufacturing. To answer these challenges, AVL List GmbH, global leader of engineering, simulation and testing technology for powertrain systems, and Comau SpA, a leading company in industrial automation products and systems, have joined forces to offer innovative, modular and flexible solutions. As of January 1, 2018, AVL and Comau have an open cooperation in simulation, design, assembly and testing of powertrain components for electric as well as traditional vehicles.

The agreement will ensure customers have access to robust, standard solutions on a global scale, backed by a local presence, resulting in higher quality and a shorter time to market. The initial focus of the partnership will be on assembly systems and end-of-line testing for automotive batteries.
"Our Partnership brings together two market leaders in their respective fields. With shared objectives and complementary competencies we are able to offer our Customers the best of both worlds providing the market with a unique interface for the whole assembly process from design to execution," explains Andrew Lloyd, Automation Systems COO, Comau.
"The combination of know-how between Comau with its enhanced Industry 4.0 solutions and AVL, with design experience in the integration of powertrain components and related testing methodologies, will bring battery assembly and end-of-line testing to a new level," states Urs Gerspach, Executive Vice President, AVL List GmbH.
Featured Product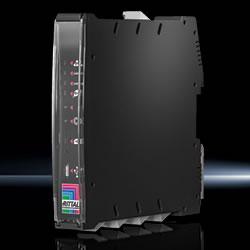 Download the Rittal Fact Book, we'll show you side-by-side product comparisons of Rittal and competitive products, and let you decide. You are an innovator. Your mind runs with "What if?" and the status quo can always be improved. When you find a supplier like Rittal who is forward thinking, you know you've found a partner. A supplier known worldwide for equipment that incorporates cutting edge technology, designed for efficiency, and solves problems other engineers hadn't even considered yet. A company that lives the Industry 4.0 world and puts it into practice in every step of the process.