New Partnership to Improve the Predictability of 3D Printed Parts, Resulting in Decreased Cost & Production Time
BOSTON - November 13, 2018 - Fortify, a leader in Digital Composite Manufacturing, announces its partnership with MultiMechanics, a developer of multiscale composite modeling and simulation software, to enhance its additive manufacturing capabilities. Through the partnership, Fortify can further validate prints being manufactured and composite materials being used resulting in stronger, higher performing products.

There are a number of factors that significantly impact the results of a manufactured composite part - from printing and alignment tolerances, to the resin and reinforcing fillers being used. If miscalculated, these missteps can result in products that are unable to withstand the force or heat required for their desired use. With the help of MultiMechanics' flagship product, MultiMech, Fortify can simulate the manufacturing process to predict the structural integrity of products, allowing the team to make adjustments to fiber alignment or substitute composite materials to improve print functionality.
"Digital Composite Manufacturing is a highly complex additive manufacturing process. Our customers rely on our expertise in this space and expect high-performing prints that are produced quickly and affordably," said Josh Martin, CEO of Fortify. "With the help of MultiMechanics, we're able to further advance our capabilities in this space, identifying flaws before a print is produced. As a result, we're able to reduce manufacturing time while improving the quality and integrity of end products."
During the design process of a 3D printed product, it's critical to understand the composites being used at a microscopic level. MultiMech makes this possible by allowing designers to zoom into a material's microstructure to identify flaws, optimize material microstructures and innovate fiber alignments. Users can significantly enhance outcome predictability and avoid potential malfunctions before a product is even put into print. These capabilities provide Fortify with new resources to provide improved, consistent 3D printed products, where factors such as structural strength and heat resistance are imperative. Consider injection molding prototype tooling, where high temperatures can easily affect the structural integrity of standard 3D printing materials, and end-use applications such as UAV components that require high-strength and light materials.
"At MultiMechanics, it's our goal to assist our partners in better understanding the advanced materials with which they work," said Leandro Castro, CEO of MultiMechanics. "Fortify's unique approach through Fluxprint and Digital Composite Manufacturing brings new opportunities to the MultiMechanics team, and we're thrilled to be partnering with them as they continue to revolutionize 3D printing processes."
The partnership comes after Fortify and MultiMechanics both saw significant growth in 2018. Most recently, Fortify was named a startup challenge winner for the Formnext conference, where the company will be showcasing its Digital Composite Manufacturing capabilities. As both companies continue to grow, Fortify and MultiMechanics plan to integrate the MultiMech API within Fortify 3D printers improving the simulation capabilities for engineers using their products. For more information, please visit multimechanics.com or 3dfortify.com.
About Fortify
Fortify is a leader in Digital Composite Manufacturing. Through its patented Fluxprint technology, Fortify's process combines magnetics and digital light processing (DLP) 3D printing to produce composite parts with ideal mechanical properties. Durable, high-performance products from Fortify are produced significantly faster and at a fraction of the cost of other manufacturing processes, allowing engineering teams to be the first to bring their new products to market. For more information, please visit 3dfortify.com
About MultiMechanics
MultiMechanics develops multiscale modeling and simulation software that helps companies accelerate the product development lifecycle by virtually predicting failure in advanced composites at an unprecedented level of speed and accuracy. Founded in 2010, one of its first projects was helping the US Army Research Laboratory explore impact applications, and the company has since evolved to specialize in helping material manufacturers and their clients better understand how composites will behave under extreme conditions. For more information, please visit multimechanics.com.
For more information, please contact:
Nick Brown
Matter
fortify@matternow.com
617.874.5486
Featured Product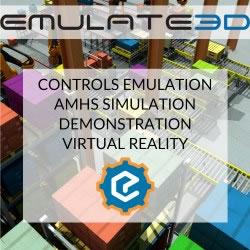 Emulate3D software helps you model and test your AMHS solutions rapidly. Use Demo3D to create running models quickly, then generate videos, stills, or view the models in virtual reality at the click of a button. Sim3D enables you to carry out experimental test runs to select optimal solutions and the most robust operating strategy, and Emulate3D Controls Testing is the best way to debug your PLCs offline, and off the project's critical path. Connect to major PLCs, import CAD, and plug into HTC Vive and Oculus Rift to produce awesome models!