Unique capability saves customer processing steps
Bally Ribbon Mills (BRM), an industry leader in the design, development, and manufacture of highly specialized engineered woven fabrics, announces its film infusion capabilities for 3-D woven joints. In the film infusion process, a frozen sheet or film of resin is infused onto the custom 3-D woven joint, saving customers the trouble of infusing the resin themselves upon delivery of the BRM-made joint.

BRM has perfected the science and art of 3-D continuous weaving. Their industry-leading research, design, and fabrication expertise enables them to solve specific challenges in innovative ways. BRMs Advanced Products Group has developed technologies to fabricate 3-D woven structures such as "Pi - π," double "T," "H," and other complex net shapes. These complex woven structures are used primarily in aerospace applications, often in airframe structural components and subassemblies including stiffeners and joints. They are custom made to fit the application.
BRM uses the film infusion process to infuse a variety of resins to these complex 3-D woven shapes. This ability allows BRM to ship its 3-D woven joints as pre-made assemblies, saving customers processing steps that require time, work, and specialized machinery. BRMs film infusion capability also allows them to control more steps of the 3-D woven joint assembly manufacturing process, ensuring consistent quality control.
For more information about Bally Ribbon Mills, please visit www.ballyribbon.com
###
About Bally Ribbon Mills
Bally Ribbon Mills (BRM) designs, develops, and manufactures highly specialized engineered woven webbing, tapes, specialty fabrics, woven preforms, and two dimensional and three dimensional structural fabrics. With more than 95 years of textile manufacturing experience, BRM has earned a reputation for meeting new advanced design challenges. Working in aerospace, defense, medical, safety, automotive, commercial, and industrial applications, BRM offers ingenuity, technical know-how, extensive weaving capabilities, and rigorous quality assurance systems. For more information, visit www.ballyribbon.com or call 610-845-2211.
Featured Product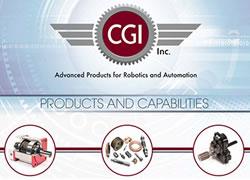 From Prototype to Production CGI Motion enables design excellence across a wide range of industrial applications. We thrive on customer driven innovation in precision gearbox, precision machined components and electro-mechanical assembly solutions ranging from aerospace systems to semiconductor applications. We are your design and manufacturing partner helping to differentiate your product, machine or innovation. Our team of problem solving engineers and product managers can bring your application to market on time and under budget. Whether it's an improvement on a current design or groundbreaking new designs, CGI has the know-how and team to enable design excellence. Connect with us today to explore what CGI Motion can do for you.