Proprietary Layered Powder Metallurgy (LPM™) Technology from Stratasys® Aimed at Delivering Cost-Effective, Production-Grade Metal Parts for Low-to-Mid Volumes
Helping customers pioneer a new era in additive manufacturing for production-grade metal parts, Stratasys (Nasdaq: SSYS) is releasing further details of its new platform currently being developed and designed for short-run metal applications. First unveiled earlier this year, the additive platform is based on Stratasys innovative, first-of-its-kind "Layered Powder Metallurgy" (LPM™) technology, designed to make production of metal parts quicker, easier and more cost-effective than ever before.

Intended to disrupt conventional manufacturing approaches, the advanced platform is being developed to combine the value of additive manufacturing with short-run metal parts production. The innovative technology is built to drive improved efficiency and cost savings using standard Powder Metallurgy (PM) alloys, mechanical properties with high accuracy and controlled shrinkage, as well as extremely fast throughput.
"We note that current approaches to 3D printing metal parts leave a lot to be desired - including slow post-processing, painstakingly intricate support removal, and hours of matching and grinding. Combined with the high cost of AM powders, this means each part is expensive, with a total cost of ownership that is too hard to justify," said Rafie Grinvald, Director of Product Marketing and Management, Stratasys. "Our new platform is being designed to transform the current metals additive manufacturing landscape - presenting a viable alternative to typical production methods - and helping customers dramatically reduce the costs of creating reliable, consistent production-grade, metal parts for short-run applications."
Developed internally over the past several years, Stratasys platform incorporates the companys proprietary jetting technology and commonly-used powder metallurgy, starting with offering Aluminium powders. The LPM™ solution includes a 3-step, additive manufacturing process combining traditional powder metallurgy with Stratasys PolyJet™ robust ink-jet technology. The process includes printing of boundaries with proprietary thermal ink, powder dispensing and spreading, and then compaction of the powder layer to achieve high-density and controllable shrinkage.
The end result is intended to be economically competitive vis-à-vis cost-per-part and throughput with easy to implement post-processing and extremely high part quality. The system aims to directly address needs of customers who require production of pilot-series parts, small-batch manufacturing during product ramp-up and end-of-life, as well as customized, lightweight, complex parts. The offering is ideal for such markets as automotive, aerospace and defense.
Stratasys is currently in closed-loop feedback discussions with OEMs and Tier-1s on the new metals platform. More details - including product specs and detailed launch timelines - will be made available soon. See Stratasys in action at formnext 2018.
View the LPM additive process in action by clicking here.
Visit Stratasys at formnext 2018
Stratasys is discussing its new metals solution and demonstrating production parts at formnext 2018 in Messe Frankfurt, Germany on Tuesday, November 13 - Friday, November 16. The company is offering exclusive hands-on demos, detailed customer use-cases and presentations throughout the show in Hall 3.1, Stand G40.
Stratasys® is a global leader in additive manufacturing / 3D printing technology, and is the manufacturer of FDM® and PolyJet™ 3D Printers. The companys technologies are used to create prototypes, manufacturing tools and production parts for industries, including aerospace, automotive, healthcare, consumer products and education. For 30 years, Stratasys products have helped manufacturers reduce product-development time, cost and time-to-market, as well as reduce or eliminate tooling costs and improve product quality. The Stratasys 3D printing ecosystem of solutions and expertise includes: 3D printers, materials, software, expert services and on-demand parts production. Online at: www.stratasys.com, http://blog.stratasys.com and LinkedIn.
Stratasys is a registered trademark and the Stratasys signet is a trademark of Stratasys Ltd. and/or its subsidiaries or affiliates. All other trademarks are the property of their respective owners.
Featured Product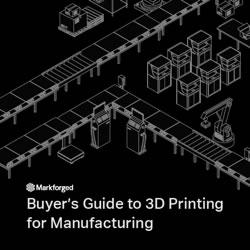 3D printing has become a powerful force in today's manufacturing industry from prototyping to tooling and fixtures to custom, end-use parts. Many businesses struggle to find the right solutions to fit their needs and provide ROI. Selecting the right platform to prevent manufacturing roadblocks is vital to optimizing your manufacturing line productivity. Download the all new buyer's guide to help you evaluate the benefits of 3D printing and dispel misconceptions, understand the pros/cons of various 3D printing processes and materials, and assess the key considerations in selecting a 3D printer.