These new solutions deliver next-generation flexibility, connectivity, and efficiency for todays existing factory infrastructure.
Analog Devices, Inc. (ADI) today announced a broad range of solutions within its advanced Industry 4.0 roadmap aimed at helping industrial equipment OEMs accelerate their path to Industry 4.0. These new solutions deliver next-generation flexibility, connectivity, and efficiency for todays existing factory infrastructure.

"Our customers want to move fast toward Industry 4.0 but also need to ensure their investments are part of a viable, long-term plan," said Brendan ODowd, general manager, Analog Devices Industrial Automation Business Unit. "This can be extremely difficult to navigate given the current pace of innovation. Were focused on a set of solution areas that represent immediate opportunity for our customers to put existing brownfield infrastructure on a path to Industry 4.0. Each of the solutions were announcing today are critical building blocks in these strategies, which include Deterministic Ethernet, security, and condition-based monitoring."
Learn more about how ADI is accelerating the path to Industry 4.0: http://www.analog.com/industry4.0
Analog Devices New Industry 4.0 Solutions:
Device-Level Security and Time Sensitive Networking (TSN) Switching Capabilities
ADI is now providing new hardware-based identity solutions that enable security at the edge of the network within a factory control loop, and improve a field devices security posture to meet security standards and requirements. These new capabilities are integrated with a real-time Ethernet multi-protocol switch with TSN features, including time synchronization (802.1AS) preemption (802.1Qbu/br), to control industrial applications via OPC-UA. By combining security capabilities with TSN features, ADI is enabling state-of-the-art field device communication solutions at the edge of industrial networks, in an easy-to-use model that accelerates customers time to market and adoption of Industry 4.0. To learn more about this topic, read: https://www.analog.com/en/technical-articles/tsn-in-automation-where-are-we-currently.html
ADcmXL3021 Module for Condition-based Monitoring (CbM)
The ADcmXL3021 module is a complete sensing system based on ADIs award-winning micromechanical (MEMs) sensor technology, which increases productivity and reduces equipment repair by monitoring early indicators of machine fatigue and failure across industrial equipment and transport vehicles. This triaxial vibration sensing module combines the MEMs sensor with several signal processing functions within a compact form factor to simplify development and provide significant bill of materials savings of smart sensor nodes in CbM systems. View the product page, download data sheet, and order samples: http://www.analog.com/ADcmXL3021
High-Precision RADAR Sensors for Industrial Applications
Symeo GmbH, now part of Analog Devices, recently introduced the 60GHz Industrial RADAR Sensor Family LPR®-1DHP-200. These next-generation positioning systems feature highly precise, robust 1D distance measurements with an accuracy in the millimeter range for advanced automation, transport, and production processes. Learn more at: https://www.symeo.com/en/products/distance-measurement/new-radar-product-family-lpr-1dhp-200/index.html
About Analog Devices
Analog Devices is the leading global high-performance analog technology company dedicated to solving the toughest engineering challenges. We enable our customers to interpret the world around us by intelligently bridging the physical and digital with unmatched technologies that sense, measure, power, connect and interpret. Visit http://www.analog.com
All trademarks and registered trademarks are the property of their respective owners.
Follow ADI on Twitter at http://www.twitter.com/ADI_News
Subscribe to Analog Dialogue, ADI's monthly technical journal, at: http://www.analog.com/library/analogDialogue/
Featured Product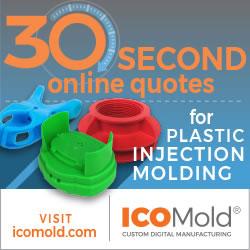 ICOMold provides plastic injection molding, CNC machining of plastic and metal, and urethane casting to customers worldwide in a variety of industries. We offer low-cost, high-quality custom plastic parts manufactured to your design, with a very fast turnaround. Any quantities from single prototypes to large, on-demand production runs. We are ISO 9001:2008 certified, and our production molds carry a lifetime warranty. Get an online quote in less than 30 seconds with our interactive quotation system.