The ZYFRAs study shows that China is one of the most advanced countries in the development of AI technologies for the Industrial Internet of things. As expected the US ranked first in the world, immediately followed by China.
Finnish industrial digitalization technologies developer ZYFRA conducted a study on the development of machine learning technologies pertaining to the Industrial Internet of Things worldwide.

The ZYFRAs study shows that China is one of the most advanced countries in the development of AI technologies for the Industrial Internet of things. As expected the US ranked first in the world, immediately followed by China.
In the case of China, the picture is full of contrasts. The 13th five-year plan, adopted in March 2016, is completed by the Made in China 2025 plan (2015) and Internet Plus initiative. If focus on funding, with 2.1 percent of its GDP invested in R&D, China has already bypassed the E.U in absolute terms, from 10.9 US $ billion in 2000 to US $ 232 billion in 2016, and is now catching up with the U.S.A. But this does not mean that these massive inputs translate in comparable outputs.
"It takes a lot of time from the achievement of new frontiers in the academic field to the beginning of the successful practical application of corresponding methods. For example, a very important research on the use of convolutional neural networks for semantic segmentation was published in 2015, but it was not until 2017 that the work on implementing this method in steelmaking began," AI Business Director of ZYFRA Dmitriy Lukovkin explains.
Basic overview represents that only 11 percent of researches are applicable while almost 85 percent of funding is directed towards development (2015). Most of the funding goes to companies (77 %), which decide according to commercial competitiveness criteria.
Chinas innovation policies have been based on incremental applications of existing technologies and protectionist policies, which favored profitable oligopolies. The scale of the market has also been a decisive factor. The rise of the internet and e-commerce have been linked to widespread use of smartphones. Now, the rapid development of computer power and the accumulation of data by BAT (Baidu Alibaba Tencent, the three dominant firms), has opened the way for the rise of artificial intelligence (AI), the next frontier for productivity in key sectors (transport, health, manufacturing, energy). It is also an efficient tool for social surveillance and governance of the state-party system, and a technology that may determine geopolitical supremacy. The mix of cooperation and competition with the United States is especially relevant in AI, where China is catching up with the U.S in talent as well as in the chip technology, both crucial for machine learning.
On November 5, during the first China International Import Expo ZYFRA presented its solution for monitoring the connected equipment MDCplus, as well as a solution based on CV and DL (for collecting data from non-CNC machines and non-connected industrial equipment), which allows to collect data from the old generation machines. The company has already started negotiations with Chinese major steel making producers. Earlier in October this year company representatives paid their visit to Beijing and Shanghai and signed a number of MOU with countrys major steel industry players. ZYFRA plans to launch several joint projects on digitalization of production facilities in China by the end of 2018.
"Chinese steel making industry sector makes its 50% of a global production. We at ZYFRA are seeing a greater potential for digitalization of Chinese steel making industry as well as manufacturing industries and mining. At CIIE there will be a lot of opportunities for us. As Chinese "Belt and Road" initiative is unprecedented global infrastructure project, there is a dramatic need for new technologies to facilitate this project," - said Maxim Mikhailov, ZYFRAs Director for Business Development in China.
The ZYFRA's study on the development of the Industrial Internet of Things around the world was published in May this year and takes into account studies and scientific publications about AI in more than 200 countries and in the 50 most cited scientific magazines.
Featured Product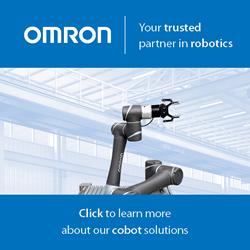 Humans and robots can now share tasks - and this new partnership is on the verge of revolutionizing the production line. Today's drivers like data-driven services, decreasing product lifetimes and the need for product differentiation are putting flexibility paramount, and no technology is better suited to meet these needs than the Omron TM Series Collaborative Robot. With force feedback, collision detection technology and an intuitive, hand-guided teaching mechanism, the TM Series cobot is designed to work in immediate proximity to a human worker and is easier than ever to train on new tasks.