A Practical Alternative to DMLS for Metal Additive Manufacturing
MetalMaker 3D, a Connecticut-based manufacturing startup, just announced the launch of their rapid prototyping service at the FabTech tradeshow in Atlanta, GA (Booth B5642). Their process integrates 3D printing with investment casting to create functional metal parts with the design freedom of additive manufacturing while maintaining the isotropic mechanical and dimensional properties of a high precision casting.

MetalMaker 3D is currently developing small-scale foundry systems to allow manufacturers to utilize this process in-house for prototyping and low-volume production of complex metal parts.
"Our goal is to enable manufacturers to use this additive pattern investment casting process in-house to produce custom metal parts in less than 24 hours."
- Eric Sammut, CEO of MetalMaker 3D
MetalMaker 3D is offering an industry compatible solution for producing metal AM parts, addressing many of the limitations of the Direct Metal Laser Sintering (DMLS) 3D printing process. DMLS parts do not have the same material properties as traditionally manufactured components since the fabrication process and metal alloys used differ from industry standards. This also makes DMLS prohibitively expensive for many prototyping applications. MetalMaker 3D is able to offer truly isotropic metal parts up to 10x cheaper than DMLS with a 1 week lead time.
"By combining additive manufacturing with investment casting, we get the best of both worlds: the design freedom, customizability, and rapid iteration of additive, along with the consistent mechanical, dimensional, and material properties of metal casting."
- Eric Sammut, CEO of MetalMaker 3D
MetalMaker 3D will start by offering a rapid prototyping service for aluminum parts, with plans to expand their range of material options in the near future. The alloy of choice is aluminum 356 casting alloy, which is one of the most widely used alloys for aluminum castings in the automotive and aerospace industries. MetalMaker 3D is also offering optional T6 heat treatments as part of their prototyping service.
"We can match the alloy, process, and heat treatment to create functional metal parts that are indistinguishable from commercially manufactured components."
- Eric Sammut, CEO of MetalMaker 3D
Businesses can request quotes and order custom metal parts using the MetalMaker 3D rapid prototyping service.
About MetalMaker 3D:
MetalMaker 3D is an advanced manufacturing startup based in Hartford, CT, USA. They are developing small-scale foundry systems for in-house investment casting, incorporating additive manufacturing into the precision casting process. MetalMaker 3D is backed by Techstars and Stanley Black & Decker, and they are already working with several manufacturers (including Stanley) on practical real-world case studies. MetalMaker 3D is now launching their rapid prototyping service through which they will work closely with manufacturers as they refine their commercial product offering.
Featured Product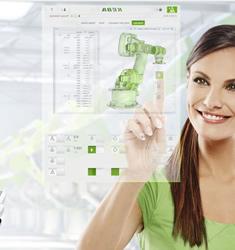 Intelligent HMI complete solutions which are sure to impress. With KeTop, KEBA offers both stationary as well as mobile operating devices for easy implementation of all possible visualization and operating tasks. Performance and size of the devices are scalable; depending on the model, membrane keyboards, touchscreens as well as multitouch monitors - on request with unique haptic elements - are available. Maximum ergonomics and best-possible operating efficiency have priority and ensure maximum productivity.