Bihler of America, a complex components manufacturing and automation innovator, is showcasing its highly efficient, servo-driven, 4 Slide-NC at FABTECH 2018, in booth A-1219.
This next-generation machine has received an overwhelmingly positive response since its debut. "The number one benefit our customers have all been talking about is the reduction in set-up time," commented Max Linder, Director of Sales and Marketing for Bihler of America. "Both set-up and change-overs can be completed in a fraction of the time, when compared to older mechanical four-slide machines."

An existing Bihler client who produces metal fasteners has been able to phase out six of its existing machines for each newly-installed 4 Slide-NC machine, all while increasing productivity and performance six fold. The client was even able to cancel plans for a facility expansion, thanks to the reduction in the overall required footprint that resulted. Increases in efficiency, manufacturing uptime, overall productivity and reduced maintenance time are all directly attributable to the replacement of older four-slide equipment with the Bihler 4 Slide-NC model.
Another popular 4 Slide-NC feature is its easy-to-use digital control system, which is the same as the control system used in all Bihler equipment. With its intuitive interface, the controls allow the complete visualization of both the production process and automation tasks. "You can program a cam timing change in as little as ten seconds. The value of that feature makes the investment worthwhile for many of our customers, considering that, on an older machine, the cam timing requires new cams and downtimes of hours, and sometimes even shifts." Linder noted.
Linder listed a number of attributes that new 4 Slide-NC customers have commented favorably on: "Customers are realizing productivity rates that are as much as four times greater than previous generation machines." And, the new machines have proven, over production runs of millions of parts, that the process capability is significantly higher, requiring fewer tool adjustments while increasing uptime. Customers also recognize the advantage of having the capability to monitor in real time hundreds of process parameters for automated production control, as well as the possibilities to operate these machines in "lights out" shifts.
ABOUT BIHLER 4 SLIDE-NC
Bihler 4 Slide-NC is a joint venture of Bihler of America and Otto Bihler Maschinenfabrik, Germany - both of which are world leaders in developing and producing technology and machinery for forming, assembly, and welding processes, for a wide range of global industries. For more than 40 years, Bihler of America has delivered innovative automation solutions to the manufacturing and assembly industries. The 4 Slide-NC technology represents the next innovation from Bihler - a new generation of four slide manufacturing that combines demonstrated reliability with intuitive, advanced controls and enhanced production capabilities.
For more information, and to learn how the 4 Slide-NC can accelerate your manufacturing performance and success, visit http://www.4slide-nc.com.
Featured Product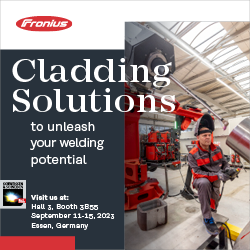 Ever since the invention of our "cold" MAG welding process Cold Metal Transfer (CMT), if not earlier, we have continuously achieved a technological edge in many welding-related areas, resulting in cutting-edge mechanized and automated welding systems. Advanced power source technology stabilizes the arc and ensures perfect welding results. Modern monitoring sensors optimize guidance of the welding torch and compensate for component tolerances. Last but not least, smart data documentation systems assist in perfecting the welding process. Collaborative systems, smart sensor technology, software solutions for data management, and offline programming including welding simulation open up profitable welding opportunities for metal processing companies starting with a single batch. That is why our robotic welding cells prove profitable not only for large companies, but also for small and medium-sized enterprises.