HARTING MICA kits provide a quick and easy solution for implementing digitization projects directly at machines and facilities
Heilind Electronics, a leading global distributor of electronic components and authorized distributor for HARTING, is now stocking HARTINGs MICA (Modular Industry Computing Architecture) Industrial Internet of Things (IIoT) starter kits.

The IIoT is widely viewed as one of the primary trends affecting industrial businesses today and in the future. HARTINGs MICA starter kits were developed to assist manufacturers looking to implement IIoT identification, predictive maintenance management and permanent status monitoring into their operations -- just a few of the many application scenarios where MICA kits show their full potential.
The kits currently being stocked by Heilind include the MICA CISS IIoT starter kit for basic condition-monitoring applications; the MICA RF-R300 RFID starter kit for basic RFID asset tracking applications; and the MICA Ethernet starter kit for connecting peripheral devices through Ethernet using communications protocols.
Visit Heilind's website for more information about HARTINGs MICA IIoT starter kits.
About Heilind Electronics
Heilind Electronics, Inc. (http://www.heilind.com) is one of the world's leading distributors of connectors, relays, sensors, switches, thermal management and circuit protection products, terminal blocks, wire and cable, wiring accessories and insulation and identification products. Founded in 1974, Heilind has locations throughout the U.S., Canada, Mexico, Brazil, Germany, Singapore, Hong Kong and China. Follow Heilind on Facebook at facebook.com/Heilind and on Twitter at twitter.com/Heilind.
Featured Product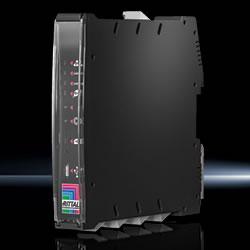 Download the Rittal Fact Book, we'll show you side-by-side product comparisons of Rittal and competitive products, and let you decide. You are an innovator. Your mind runs with "What if?" and the status quo can always be improved. When you find a supplier like Rittal who is forward thinking, you know you've found a partner. A supplier known worldwide for equipment that incorporates cutting edge technology, designed for efficiency, and solves problems other engineers hadn't even considered yet. A company that lives the Industry 4.0 world and puts it into practice in every step of the process.