SaaS solution connects critical asset data with key business metrics to unearth previously inaccessible insights, trends, and ROI
Plutoshift today announced its cloud-based asset performance management (APM) solution for the process industry, which includes verticals such as food, beverage, and chemical. Using artificial intelligence (AI), Plutoshift automatically and continuously connects asset data with financial metrics so companies can easily measure performance to achieve their business outcomes and increase profit margins.

Companies in the process industry are expected to generate more revenues using less resources and without buying new assets. The vast amount of industrial sensor data that manufacturers rely on to meet these challenges is often trapped in aging, on-premise systems that cannot correlate the impact of asset performance over future revenue metrics. In addition, these legacy systems lack the capabilities, features, and ease of use that todays tech savvy end-users expect.
Plutoshifts AI-enabled APM platform lets plant managers discover process inefficiencies and find new opportunities to increase throughput and eliminate wasteful spending. Its proprietary machine learning algorithms leverage a plants existing historical and real-time data to visualize complex and dynamic relationships, extracting actionable insights between asset behavior and revenues. With its SaaS-approach, the Plutoshift APM platform is not only cost effective, but also works with existing data systems seamlessly. It also can be accessed from anywhere.
Plutoshifts secure, cloud-based platform is the only solution vetted by global forums of leading industrial technology evaluation committees. Key features include:
• Deep analysis and intelligence: Easily connects to multiple data streams including SCADA, ERP, and CMMS to produce actionable insights on the costs, risks, and potential efficiencies of plant operations to achieve optimal performance.
• Agile integration: The solution can seamlessly integrate with every process historian available on the market today.
• On-demand insights: Interactive, easy-to-use dashboards, and alerts are accessible anywhere, providing expanded mobility for plant operators.
• Pre-built asset templates: An expansive and growing library includes assets such as membranes, cooling towers, CIP systems, clarifiers, dryers, and more.
Plutoshift partnered with its Fortune 500 customers in the food, beverage, and chemical industries to create its APM solution. It was specifically designed to connect and analyze data to provide insights that let organizations better manage excess resource consumption.
"We built Plutoshift to give companies an easy way to bridge the relationship between their industrial data and financial performance to improve plant operations," said Prateek Joshi, CEO and founder of Plutoshift. "AI is only as good as the business outcomes it supports, so our biggest priority is to make it as easy as possible for our customers to achieve their business goals and generate ROI as quickly as possible."
For more information or to arrange a demonstration, please visit www.plutoshift.com/contact-us.
About Plutoshift
Plutoshift helps the process industry unlock the value of their assets. The company offers a secure, SaaS asset performance management (APM) solution that connects asset data with financial metrics. Plutoshift's proprietary Artificial Intelligence (AI) algorithms help its Fortune 500 customers monitor performance, discover inefficiencies, reduce resource consumption, and eliminate waste. Headquartered in Palo Alto, Calif., Plutoshift is privately funded by Fall Line Capital, Unshackled Ventures, Refactor Capital, and others. For more information, visit https://www.plutoshift.com.
Featured Product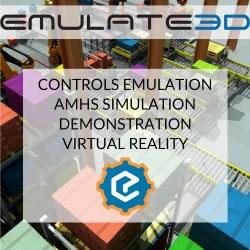 Emulate3D software helps you model and test your AMHS solutions rapidly. Use Demo3D to create running models quickly, then generate videos, stills, or view the models in virtual reality at the click of a button. Sim3D enables you to carry out experimental test runs to select optimal solutions and the most robust operating strategy, and Emulate3D Controls Testing is the best way to debug your PLCs offline, and off the project's critical path. Connect to major PLCs, import CAD, and plug into HTC Vive and Oculus Rift to produce awesome models!