Easy Laner, intelligent servo-driven lane diverter delivers fast, accurate product diverting, converging and balancing. It automatically adjusts lanes and guide rails for fast one-touch setup, changeover and adjustments. See Easy Laner at PACK EXPO International—Oct 14-17, Booth N-5742, McCormick Place, Chicago.
Septimatechs new smart, Easy Laner servo-driven lane diverter accurately merges or diverges a balanced supply of stable and unstable containers from a single lane to multiple downstream lanes. The direct drive laner eliminates chains and belts for fast, smooth, maintenance-free and jam-free operation. The Easy Laner comes standard with Septimatechs state-of-the-art automatically adjustable guide rails for easy, fast, one-touch tool-less setup and changeover.

The Easy Laner directs containers to multiple machines or lanes by product count or high/low prime to maintain steady downstream production balance. Metering and balancing is available through a gate or brake. If a problem occurs downstream, the intuitive system automatically ceases flow to that machine or lane, while maintaining consistent delivery to the other lanes. Septimatechs Easy Laner retrofits onto existing packaging lines, has a small footprint, and can be adapted to confined or unconventional spaces to feed casepackers, cartoners or other applications. No operator intervention required.
Automated changeovers and new container introductions are simple, fast and consistent with a PackML enabled controller that operates either as a standalone HMI or easily works with existing communications gateways and interfaces. The Easy Laner allows up to 8" (20.32 cm) of width adjustment to accommodate a wide range of product sizes.
Easy Laner benefits include:
Fast, easy setup and changeover on user-friendly touch screen for one-touch automatic lane changeover.
Built-in state-of-the art Septimatech automated, adjustable guide rails.
Precise, intelligent long-life servo-driven system.
No belts and chains for maintenance-free and jam-free operation.
Fast, precise gate control for improved product handling and flow.
Flexible adjustment for a wide variety of existing or new containers.
"Easy Laner is an ideal solution for any packaging operation feeding multiple lanes or producing products in a wide variety of container sizes and shapes," says Gord Beaton, Septimatech VP of Sales and Service. "It provides a strong return on investment with increased uptime, efficiency and production, while reducing maintenance and labor costs. Easy Laner also provides outstanding flexibility for evolving packaging operations and product changes."
Septimatechs new Easy Laner servo-driven lane diverter will be on exhibit at PACK EXPO International—Oct 14-17, Booth N-5742, McCormick Place, Chicago.
About Septimatech Group, Inc.
Septimatech is a leading worldwide provider of packaging machine and line productivity solutions. Our precision-engineered solutions simplify operations, improve efficiency, and assure rapid, accurate, repeatable changeovers and adjustments. Many of the worlds leading consumer and industrial goods manufacturers depend on Septimatech to increase uptime, improve performance and flexibility, and overcome unique production challenges. Our products include rapid change, high performance Guide Rail Systems, Change Parts, integrated line adjustment solutions, Feed Screw Drive Units, Feed Screws, Label Handling, and Smart Parts Carts. Septimatech is committed to helping our customers maximize their lines potential and provides PROVEN PERFORMANCE IN EVERY PACKAGING CHANGEOVER. Septimatech is headquartered in Waterloo, Ontario. For more information visit our website at http://www.septimatech.com.
Featured Product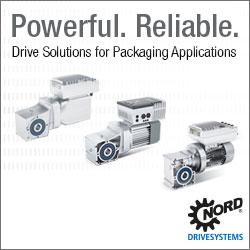 The existing generation of NORD IE3 and IE4 motors already offer impressive efficiency, but the new IE5+ technology takes this one step further, delivering even more efficiency at low speeds and partial loads, resulting in additional operational cost reduction. IE5+ motors are extremely versatile and can be used for a wide range of applications including food and beverage, intralogistics, airport baggage handling, and post and parcel industries that frequently operate at partial loads or reduced speeds and may need to quickly adjust load size and speeds.