The upgraded Sentry LP features IntelleVue, a new seven-inch color touch screen HMI and controls package for easier operation, improved diagnostics, and better overall load protection.
Orion, a product brand of ProMach, introduces the newest iteration of the brands top-selling entry-level stretch wrapper, the Sentry LP. Value is optimized having a price point that is less than $6,300. With new technology additions and improvements made to the foundational design, the Sentry LP is now easier to operate and service and is faster than ever before.

This semi-automatic machine features IntelleVue, a seven-inch color touch screen HMI/controls package for easy operation, quick trouble shooting, and better overall load protection. Also, at twelve revolutions per minute (RPM), the stretch wrapper makes a 30 percent increase in wrap speed, helping improve productivity. At this speed and with other features such as 200 percent pre-stretch to stabilize loads while minimizing film usage, the Sentry LP is a leader in the entry-level stretch wrapper category.
To aid wrap accuracy, another new addition to the latest Sentry generation is Orions RevoLogic™, which delivers a precise count of each RPM. RevoLogic supports the accuracy of each wrap pattern, including the important number of top and bottom wraps. To further advance productivity, Orion offers an integrated scale option that allows for pallet weighing and wrapping to be completed in one single step. The Sentry LP is now warranted for three years.
IntelleVue Adds Tremendous Value
IntelleVue is recipe driven, ensuring the right wrap pattern for every pallet configuration and rapid, trouble-free changeover. IntelleVue provides independent up and down wrapping control for optimum wrap patterns, maximum stability, and minimum film usage. IntelleVue is now standard across the entire line of Orion next generation stretch wrappers. This graphic user interface enables a diverse, multi-language workforce to optimize stretch wrapping performance during every shift regardless of daily changing conditions. Vital information on operation, fault clearance, and maintenance is at most two clicks away on the touchscreen. Photos and other graphics provide easy-to-grasp information on how to perform functions and fix faults. The user manual is also accessible through IntelleVue.
See Orion at Pack Expo 2018, Booth #S-3548. Visitors will be able to get a first look and witness a live demonstration of the next generation Sentry stretch wrapper.
About Orion
Orion Packaging, a product brand of Pro Mach, manufactures and sells heavy duty industrial stretch and pallet wrapping systems for beverage, food and drug, consumer products, and printing/publishing industries in the United States and internationally. It offers semi-automatic stretch wrapping turntable machines, and semi-automatic and automatic stretch wrapping rotary tower systems, as well as orbital, automatic, semi-automatic, and specialty stretch wrap systems. Orion products are sold through an extensive network of distributors. http://www.OrionPackaging.com
About ProMach
ProMach is a family of best-in-class packaging solution brands serving manufacturers of all sizes and geographies in the food, beverage, pharmaceutical, personal care, and household and industrial goods industries. ProMach brands operate across the entire packaging spectrum: filling and capping, flexibles, pharma, product handling, labeling and coding, and end of line. ProMach also provides Performance Services, including integrated solutions, design/build, engineering services, and productivity software to optimize packaging line design and deliver maximum uptime.
ProMach designs, manufactures, integrates, and supports the most sophisticated and advanced packaging solutions in the global marketplace. Its diverse customer base, from Fortune 500 companies to smaller, privately held businesses worldwide, depends on reliable, flexible, technologically advanced equipment and integrated solutions. ProMach is headquartered near Cincinnati, Ohio, with manufacturing facilities and offices throughout the United States, Canada, Mexico, Brazil, Europe, United Arab Emirates, and China. For more information about ProMach, visit http://www.ProMachBuilt.com.
Featured Product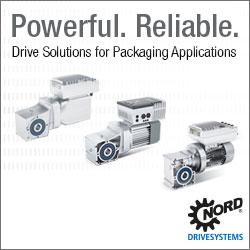 The existing generation of NORD IE3 and IE4 motors already offer impressive efficiency, but the new IE5+ technology takes this one step further, delivering even more efficiency at low speeds and partial loads, resulting in additional operational cost reduction. IE5+ motors are extremely versatile and can be used for a wide range of applications including food and beverage, intralogistics, airport baggage handling, and post and parcel industries that frequently operate at partial loads or reduced speeds and may need to quickly adjust load size and speeds.