Many countries around the world are introducing initiatives aiming to achieve industrial digitalisation in the next 10-15 years. However, industrial automation expert Novotek UK and Ireland argues that the technology is already available and businesses can begin digitalising operations by 2020. The company outlines the technologies available, and the value in using them, in its new industrial internet of things (IIoT) whitepaper, which is free to download from the Novotek website.
The whitepaper tackles emerging technologies such as digital twinning, artificial intelligence and next-generation supervisory control and data acquisition (SCADA) systems. Novotek explains how each of these technologies can be used to benefit the modern industrial business, particularly in terms of significantly improving maintenance operations.

"Whether youre working in a food processing plant or an automotive manufacturing site, maintenance is an unavoidable part of industrial operations," explained George Walker, managing director of Novotek UK and Ireland. "Its in these roles that were already seeing digital technologies have the biggest impact, providing detailed insight for maintenance engineers and plant managers. This has an impact beyond just technical data; it can completely reshape a plants maintenance schedule to reduce costs, maximise uptime and minimise risk.
"For example, its now possible to use digital twinning to create virtual representations of physical assets that draw from current and historical data. These twins allow engineers to remotely view how a piece of equipment is performing and when maintenance is required, but were also at a point where predictive analytics can be incorporated into this. This allows the system itself to identify trends and predict when maintenance is necessary, reducing planned downtime to an efficient minimum.
"This is just one example of intelligent analytics and algorithms in maintenance that plant managers can begin investing in today. As our whitepaper explores, platforms such as Predix by GE Digital incorporate machine learning algorithms into the core platform itself, which can analyse the vast amounts of generated data far more efficiently than any human worker. Engineers can use this to make truly impactful process improvements that can add value to the business."
Novoteks whitepaper is designed to provide an immediate benefit to plant managers. According to the company, many businesses are still under the impression that the IIoT is a distant concept that is not yet practical.
"Discussions around modern industrial automation and digitalisation are always very forward-looking," continued Walker. "While businesses should create a digitalisation roadmap for the future, its important we dont overlook the technologies that exist today. Plant managers dont need to wait to begin seeing the benefits of industrial automation."
Engineers and plant managers interested in achieving more from digitalisation and automation can download Novoteks whitepaper from the company website.
Featured Product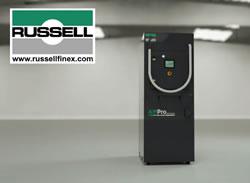 The Russell AMPro Sieve Station™ guarantees the quality of your additive manufacturing (AM) powder, and has been designed to provide optimum sieving efficiency, ensuring your powder is ready for use or reuse as and when you require it. With a simple one-button operation and mobile design, this automated check screener ensures your powder at every stage of the process is qualified for use quickly and safely. The flexibility of the Russell AMPro Sieve Station™ means you can use the system for numerous powder handling tasks - being a modular design ensures the machine can be configured to meet your exact requirements.