Manufacturers, such as Dalsin Industries, use Epicor ERP for their precise industry needs
Epicor Software Corporation, a global provider of industry-specific enterprise software to promote business growth, today announced it will be showcasing its Epicor ERP solution at IMTS 2018 to help manufacturers leverage a multidimensional enterprise resource planning (ERP) system to boost their growth strategies. The company will be in booth 133324, on level 3 of the East Building at the McCormick Center during the September 10-15, 2018 event.

Recent research from Epicor, which explored the influences and impacts of business growth according to 2,450 business decision makers around the globe, has shown a telling discrepancy between the businesses that invest in technology, and those that dont[1]. Of those that reported strong business growth in the last 12 months, 57 percent prioritized IT investment, suggesting technology has played a key role in their success. Among companies with weak growth just a fifth had prioritized IT investment.
Dalsin Industries, a contract sheet metal manufacturer from Bloomington, Minnesota, is one customer that prioritized IT investment to grow. "Epicor has helped us evolve how we keep up with our customers and put us in a great position to help us grow as we embrace the future of manufacturing," said Gary Fruth, chief executive officer at Dalsin Industries, an Epicor ERP customer. "For us, customer experience is key. Each and every time, we must engage our customers responsively, interact with them, and provide them with products and services that meet or beat their expectations."
"With 36 percent of all businesses agreeing that investing in IT is a high priority, theres no doubt IT is an area that can help your business grow," said Scott Hays, senior vice president, product marketing, Epicor Software Corporation. "Customers like Dalsin Industries understand the impact of a powerful ERP product, but also that achieving growth isnt as simple as installing new software. Epicor closes the gap between understanding the benefits of an ERP strategy and success by offering an ERP solution that is architected to solve manufacturers unique business problems and help them get fit for growth."
However, for any new ERP implementation to be successful, the platform needs to be flexible. It must connect the top floor to the shop floor, be scalable, and most importantly, it must allow for change. This is why Epicor will also be showcasing other offerings that, when combined with Epicor ERP, gives manufacturers a complete set of tools to understand how to repeat or avoid certain production outcomes, help them sell more via eCommerce, and gain a deeper understanding of their operations.
• Epicor Data Analytics (EDA) helps companies turn their data stored in Epicor ERP into actionable data. With deeper insights, companies can grow by reducing cost, identifying new opportunities, supporting specific programs, and speeding up decision-making.
• Epicor Commerce Connect (ECC) integrates eCommerce with other business processes in real-time, but more importantly, customers see a modern eCommerce website focused on convenience, ease of use, and repeat ordering.
• Epicor Mattec MES is a real-time manufacturing execution system that monitors machines and analyzes machine-related data such as Overall Equipment Effectiveness (OEE), run rates, scrap, yield, and energy consumption. The system captures data directly from machines and operators, and delivers real-time production metrics and real-time operations analytics in an easy-to-digest visual manner. It helps customers drive profitability, increase capacity, improve quality, and empower employees on the shop floor to make better decisions using up to date information.
"At Epicor, we talk about the importance of fit, ease, and growth. The question businesses must ask of ERP vendors is if their solutions fit into the ecosystem, process flow, and industry sector? Epicor delivers out-of-the-box industry-specific functionality, complemented by APIs to easily integrate with other apps in the customers ecosystem. To keep up with the pace of innovation in this day and age ERP systems need to be easy to purchase, deploy, configure, learn, use, and upgrade to support business growth," Hays added.
To learn more about how Dalsin Industries and other customers use Epicor ERP to reduce complexity and focus on growth, please visit our Customer Success Stories hub.
About Epicor Software Corporation
Epicor Software Corporation drives business growth. We provide flexible, industry-specific software designed to fit the precise needs of our manufacturing, distribution, retail, and service industry customers. More than 45 years of experience with our customers unique business processes and operational requirements are built into every solution―in the cloud or on premises. With this deep understanding of your industry, Epicor solutions dramatically improve performance and profitability while easing complexity so you can focus on growth. For more information, connect with Epicor or visit www.epicor.com.
Featured Product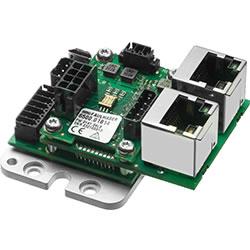 The FAULHABER Linear Actuator L series are designed to provide high performances in compact dimensions, these actuators can support large input speed, high output force and are suited for a wide range of applications like robotics, industrial machines and laboratory equipment.