- Introducing Several New Professional-Grade 3D Printers - Unveiling Full Suite of AI Powered Factory and Service Robotics
New Kinpo Group (NKG), a leading global contract manufacturing provider, announced today a significant industry 4.0 portfolio expansion powered by two of its subsidiaries, XYZprinting and New Era AI Robotic, designed to extend its combined additive manufacturing and robotics leadership and presence in North America. In connection with this announcement, the company plans to debut several new professional-grade 3D printers together with never-before-seen AI-powered factory and service robotics from New Kinpo Group at IMTS 2018.

"We are very proud to combine the best of our additive and robotics capabilities and present at IMTS the full capabilities of our company's industry 4.0 solutions," said Simon Shen, CEO New Kinpo Group. "As one of the world's largest electronics contract manufacturing service providers, with projected annual revenue of $6 billion, employing over 42,000 professionals around the world, we live industry 4.0 inside our 28 factories every day. For nearly two decades, we have been developing proprietary factory and service robotics technology for our own use," continued Shen. "After decades of internal development and large-scale deployment of some 1,000 Kiva-like automated guided vehicles (AGVs), we are thrilled to commercialize our latest solutions for the benefit of manufacturing and service customers worldwide," concluded Shen.
The company invites interested customers to apply for its early access program, and qualified resellers, robotic system integrators and end-users to visit its IMTS booth: No. 121231, East Building, Level 2 at the McCormick Place, Chicago, IL.
About New Kinpo Group:
New Kinpo Group is a leading global electronic manufacturing services (EMS) and original design manufacturing (ODM) company that offers customers lower costs, faster delivery and world-class product quality. The New Kinpo Group includes well-known subsidiaries such as Cal-Comp, XYZprinting, Kinpo Electronics and AcBel. The company's EMS business spans multiple product lines, including storage, printers, network-attached storage (NAS), wireless and broadband, digital home, consumer electronics, wearables, 3D printing, robotics, power management and smart grid, industrial, automotive, security, medical/healthcare and emerging technologies.
XYZprinting is a wholly-owned subsidiary of NKG and a leading global provider of comprehensive 3D printing solutions. XYZprinting is the number one selling global brand in desktop 3D printing products and services since 2015 and is now moving decisively into the industrial additive manufacturing arena.
For more information, visit http://en.newkinpogroup.com/
Featured Product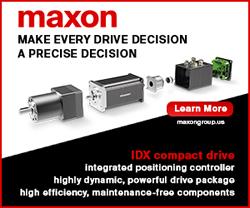 maxon motor launches new high-speed motors that are configurable online. The new ECX brushless motors are quiet and feature very high efficiency. The ECX motors are available with diameters of 8, 16 and 19 mm achieving speeds of up to 120,000 rpm. They run very smoothly and are highly efficient. With maxon motor's online configurator, it is easy to put together a customized DC motor to include gearhead, encoder and controller. The customized motors are ready to ship in 11 days!