The worlds premier manufacturer of specialty and sensitive environment robots will showcase superior automated solutions for manufacturing.
DUNCAN, S.C. (August 29, 2018) - Stäubli will showcase its robotic solutions, in two different locations within International Manufacturing Technology Show, September 10-15, 2018, McCormick Place, Chicago, IL.

The Metrologic Group with Staubli Robotics will illustrate the first of its kind Coordinate Measuring Robot (CMR) combines Metrolog X4 i-Robot -Metrologic Groups robot-dedicated 3D measurement software built on over 35 years of expertise in 3D error mapping and compensation with Stäublis 6-axis TX2-60. The partnership allows the highly efficient mechanical robots developed by Stäubli achieving +/-100-micron accuracy in touch trigger mode, in a 1 cubic meter volume, and +/- 150-micron in optical laser scanning mode. As all the Metrologic Groups software suite does, the CMR can accommodate any kind of touch probe or optical sensor, of any make. Stop by Metrologic Groups booth #135653, east building to learn more about CMR.
Aquarese, a Shape Technologies Group company, will be demonstrating with Staubli Robotics several of their advanced applications including waterjet stripping, a coating removal process, waterjet blasting, an investment cast ceramic shell removal process, abrasive waterjet cutting, and high pressure waterjet deburring. Aquarese is a leading supplier of advanced waterjet manufacturing process solutions to Aerospace, Automotive, Defense, Semiconductor, and Energy markets. Aquarese will display at sister company Flow Internationals booth #236207.
Staubli Robotics prides itself in working with only the highest quality partners. Both The Metrologic Group and Aquarese join Staubli Robotics SMART technologies to todays fast paced, high productive manufacturing environments illustrated at IMTS 2018.
For more information please contact:
Stäubli Robotics (North America)
Jan Abel
Senior Marketing-Communications Manager
Phone: (864) 486-5430
j.abel@staubli.com
About Stäubli North America
Stäubli North America has over 200 employees supporting Connectors, Robotics and Textile customers. The companys North American headquarters is located in Duncan, S.C., and the sales force is strategically placed on the West Coast, Detroit, Canada, Mexico and elsewhere thoughtout the continent.
Stäubli is a leading manufacturer of textile machinery, quick release couplings and robotics systems. With a workforce of over 5,000 employees Stäubli is present in 29 countries supported by a comprehensive distribution network in 50 countries worldwide.
Visit www.staubli.us for more information on the company and products.
Aquarese, a Shape Technogies Group company, is a leading supplier of innovative advanced manufacturing solutions utilizing ultra-high-pressure waterjet technology. Aquarese main markets are aerospace jet engine industry and industrial gas turbine industry for cutting, rough machining and MRO stripping applications; foundry industry for ceramic shell and core removal, degating and leveling operations; forgining industry for deflashing and lubricant stripping, automotive industry for deburring, semiconductor industry for kit cleaning. Aquareses teams and water jet focus makes the difference serving customers globally with process R&D, production workships, turnkey systems & solutions, state of the art customer support.
Visit. www.aquarese.fr
Featured Product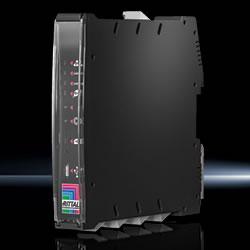 Rittal Blue e+ cooling units are currently the most efficient of their kind on the market. Besides being 75 percent more energy-efficient than previous cooling solutions on average, the units also excel in terms of connectivity, safety and handling.   What's more, their IoT interface enables Blue e+ units to link to customer-owned monitoring, energy management and/or superordinate systems via OPC-UA, Profinet, SNMP, Modbus TCP and CANopen, enabling predictive maintenance, data analytics and more.