This article describes four of the many ways 3D printing is improving healthcare in developing countries.
The development and use of 3D printers is most common in Europe, North America and, increasingly, Asia. But while additive manufacturing technology is being put to use in those regions for a wide variety of applications across myriad industries, healthcare professionals are finding new and exciting uses for their 3D printers in developing countries.

Since 3D printers are relatively portable and can be used in a variety of environments, the medical world is beginning to realize how 3D printing can serve healthcare in places with scarce medical resources. Where previously it would have been necessary to import medical equipment, materials and devices, 3D printing now allows for the immediate, on-demand fabrication of those items.
This has resulted in huge medical developments in remote and less economically developed areas, with 3D printed prosthetic limbs, 3D printed disease prevention tools and various other 3D printed medical items providing new, affordable options for healthcare in the developing world.
This article describes just four of the many ways 3D printing is improving healthcare in developing countries.
Affordable 3D printed prosthetics
One of the most exciting uses for 3D printing in healthcare is also one of the most democratic. Virtually anyone can get involved in the world of 3D printed prostheses, with organizations like e-NABLE working hard to connect printer-savvy volunteers with young patients looking for a new hand.
The idea is simple: create a downloadable, 3D printable prosthetic hand, share it online, and patients can receive a life-changing device for the cost of a small amount of plastic.
"There are people reaching out into their communities and helping people in places where medical care is hard to find and owning a traditional prosthetic device is nothing but a dream," explains e-NABLEs Jennifer Owen.
Volunteer organizations like e-NABLE are, however, just the tip of the iceberg when it comes to 3D printed prosthetic devices. There are also professional companies finding new ways to create tailor-made, comfortable and affordable 3D printed limbs that can be made anywhere in the world.
These revolutionary developments can benefit developing countries in two ways: either 3D printers can be bought and operated in the developing country itself, allowing the creation of 3D printed arms, legs and other prostheses, or those prostheses can be 3D printed elsewhere — via an on-demand manufacturing company like 3ERP, for example — and shipped to the country in question.
3D printed water testing kits
While only a minority of people require a prosthetic device, everybody needs to drink water — even in places where water can be dangerously unclean. Fortunately, 3D printing is also helping those in developing countries analyze water to test for bacteria and disease, letting people discriminate between safe water supplies and unsafe ones.
Across the world, water-born bacterial infections cause more than 2,000 death per day, so it is vital that people are able to identify those water-born bacterial infections. 3D printed microscopes can help do so.
Organizations like WaterScope are developing simple, open-source microscopes that can be built from mostly 3D printed parts and used as an education tool for students and teachers. Devices like these can be used to detect bacterial colonies, allowing for the identification of unsafe water even in developing countries.
Alex Patto, CEO and cofounder of the WaterScope, says the 3D printed test kit "is simpler, faster and cheaper, so we can get more tests done in a shorter amount of time."
Portable 3D printed laboratories-in-boxes
In addition to testing water for cleanliness, it is also vital to test other fluids — bodily fluids, namely, in order to check for diseases. Thanks to various 3D printed innovations, it is now becoming easier to carry out tests such as blood and saliva analyses, even in remote areas where there are no hospitals or dedicated laboratories.
One example of a useful 3D printed disease testing kit is the FieldLab, developed by at Rhodes University in South Africa. After seeing a need for mobile labs 2014 Ebola outbreak in West Africa, the students put together a solar-powered, partially 3D printed "lab-in-a-box" that can be used to carry out DNA analysis, centrifugation and visual analysis of results.
Another test kit, made by U.S. company PandemicTech, has been developed specially to combat the rise of leishmaniasis, a tropical disease. 3D printing is used to create vital components like test tubes and caps.
"The new testing device will allow more patients to be treated earlier and decrease the amount of time it takes to obtain a diagnosis," says Andrew Nerlinger, director of PandemicTech. "It will also potentially allow health workers to provide a diagnosis to patients while conducting medical work in the remote regions often most impacted by leishmaniasis."
Improving medical education
Not all 3D printed innovation is about treating patients. As part of a more general effort to improve medical practice around the world, 3D printing is helping healthcare professionals create accurate anatomical models that can be used for teaching and training purposes.
3D printing, particularly the technologies of Fused Deposition Modeling (FDM) and Stereolithography (SLA), can be used to fabricate detailed medical models of organs, bones and other body parts, which can then be used in a classroom or hospital setting to educate the next generation of medical professionals.
Accurate, easily accessible medical models are particularly valuable in developing countries where resources are less abundant than they are in more economically developed countries.
3ERP has years of experience making products and prototypes in the medical sector, manufacturing everything from hand-held appliances to anatomical models and large-scale treatment units. Contact us for more information on how we can realize your medical projects.
Featured Product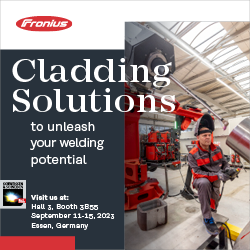 Ever since the invention of our "cold" MAG welding process Cold Metal Transfer (CMT), if not earlier, we have continuously achieved a technological edge in many welding-related areas, resulting in cutting-edge mechanized and automated welding systems. Advanced power source technology stabilizes the arc and ensures perfect welding results. Modern monitoring sensors optimize guidance of the welding torch and compensate for component tolerances. Last but not least, smart data documentation systems assist in perfecting the welding process. Collaborative systems, smart sensor technology, software solutions for data management, and offline programming including welding simulation open up profitable welding opportunities for metal processing companies starting with a single batch. That is why our robotic welding cells prove profitable not only for large companies, but also for small and medium-sized enterprises.