New LENS Controlled Atmosphere Hybrid System supports Building, Repairing, Coating and Finishing of Metal Parts up to 860mm in Size
Optomec - a leading global supplier of production-grade additive manufacturing systems for 3D printed metals, today announced the LENS 860 Hybrid Controlled Atmosphere (CA) System. The new addition to the Optomec LENS Machine Tool Series has a larger build volume and supports higher laser power, providing more capabilities for affordable, high-quality metal hybrid manufacturing. The system will be on display at IMTS (Chicago, McCormick Place, Sept 10-15, 2018 in the West Building, Booth # 432204).

The LENS 860 Hybrid CA system has an 860 x 600 x 610mm work envelope, is equipped with a hermetically-sealed build chamber that maintains oxygen and moisture levels below 10 ppm for processing reactive metals, such as Titanium. The system can be configured with closed loop controls and a high-power 3kW fiber laser, making it ideal for building, repairing or coating mid to large size parts with superior metal quality. In addition to the LENS 860 Hybrid CA model, three more configurations are available. The LENS 860 Hybrid Open Atmosphere (OA) system provides an ideal platform for processing non-reactive metals, such as Stainless Steel, Tool Steel Inconel, etc. Two Additive-Only models (both Open and Controlled Atmosphere) round out the new large format Machine Tool Series of LENS systems.
All Machine Tool Series systems incorporate Optomec industry-leading LENS 3D Metal Printing technology, which has been enhanced for higher power and faster additive manufacturing. One key advantage of the LENS Hybrid configuration is the ability to use the milling capability to perform finish machining on a printed part without re-fixturing or aligning the component on a second machine. The LENS Machine Tool Series continues to lead the industry in cost to performance with a starting price of under $250,000.
"The new LENS 860 suite of systems builds on the success of our Machine Tool Series, first launched at IMTS in 2016. These new larger machines continue to demonstrate our ability to transition Optomec production-proven 3D Metal Printing capability onto traditional CNC platforms that match the cost, performance and ease-of-use demands of the traditional machine tool market," said Mr. Dave Ramahi, Optomec president and CEO. "These products are a key element of our strategy to bring Metal Additive Manufacturing into the industrial mainstream."
The LENS 860 Hybrid CA system can produce and repair larger parts cost-effectively and also provides versatility, with the ability to print fine-features for thin wall structures and perform wide area cladding for wear coating applications. Powerful Optomec software enables 5-axis build strategies that combine additive and subtractive operations in a single tool path. A range of material starter recipes are available to help speed adoption with the LENS 860 Hybrid Controlled Atmosphere System.
First customer shipments will commence this year.
About Optomec
Optomec is a privately-held, rapidly growing supplier of Additive Manufacturing systems. Optomecs patented Aerosol Jet Systems for printed electronics and LENS 3D Printers for metal components are used by industry to reduce product cost and improve performance. Together, these unique printing solutions work with the broadest spectrum of functional materials, ranging from electronic inks to structural metals and even biological matter. Optomec has more than 300 marquee customers around the world, targeting production applications in the electronics, energy, life sciences and aerospace industries. For more information about Optomec, visit http://optomec.com.
Featured Product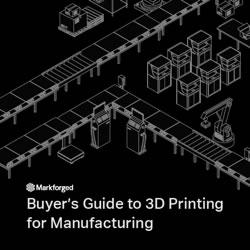 3D printing has become a powerful force in today's manufacturing industry from prototyping to tooling and fixtures to custom, end-use parts. Many businesses struggle to find the right solutions to fit their needs and provide ROI. Selecting the right platform to prevent manufacturing roadblocks is vital to optimizing your manufacturing line productivity. Download the all new buyer's guide to help you evaluate the benefits of 3D printing and dispel misconceptions, understand the pros/cons of various 3D printing processes and materials, and assess the key considerations in selecting a 3D printer.