ZEISS MICURA comes with the VAST XT gold or the VAST XTR gold active scanning sensor. The speed and precision makes it a valuable inspection solution for medical devices and implants, optics and electronics.
Ideal for measuring small, intricate parts, the MICURA CMM from ZEISS Industrial Metrology with active scanning and submicron accuracy, now includes a model with an even larger measuring range. ZEISS will introduce this new MICURA model at IMTS (International Manufacturing Technology Show), in Chicago, September 10-15, 2018. The new system can handle bigger parts with a 40 percent larger measuring range of 500 x 700 x 500 millimeters and has a machine-mounted controller, saving floor space.

ZEISS MICURA comes with the VAST XT gold or the VAST XTR gold active scanning sensor. The speed and precision makes it a valuable inspection solution for medical devices and implants, optics and electronics. The VAST XT gold sensor enables high-speed scanning featuring up to 200 measuring points per second. Angled features are best suited for the VAST XTR gold sensor. Its integrated swivel joint enables the stylus system to turn as far as possible in 15 degree increments and thus always positions the stylus in the direction of the feature being measured. This saves time and money because fewer stylus systems and modifications are required, and it minimizes the need for a rotary table.
ZEISS MICURA is available with user-friendly CALYPSO metrology software that works with all ZEISS systems. This includes an extensive and expanding portfolio of coordinate measuring machines, optical systems, computed tomography machines and more.
Be sure to stop by the main ZEISS booth, East Building, 135502 for free learning sessions on the ZEISS MICURA and other systems throughout the week. All booth visitors also have a chance to register to win ZEISS gear! To learn more and register visit www.zeiss.com/imts-2018
Don't miss the other ZEISS booths at IMTS - East Building, 135655 (ZEISS X-Ray Solutions), plus the North Building, Smartforce Student Summit booth 215406.
About ZEISS
ZEISS is an internationally leading technology enterprise operating in the fields of optics and optoelectronics. The ZEISS Group develops, produces and distributes measuring technology, microscopes, medical technology, eyeglass lenses, camera and cinema lenses, binoculars and semiconductor manufacturing equipment. With its solutions, the company constantly advances the world of optics and helps shape technological progress. ZEISS is divided up into the four segments Research & Quality Technology, Medical Technology, Vision Care/Consumer Products and Semiconductor Manufacturing Technology. The ZEISS Group is represented in more than 40 countries and has over 50 sales and service locations, more than 30 manufacturing sites and about 25 research and development centers around the globe.
In fiscal year 2016/17 the company generated revenue approximating €5.3 billion with around 27,000 employees. Founded in 1846 in Jena, the company is headquartered in Oberkochen, Germany. Carl Zeiss AG is the strategic management holding company that manages the ZEISS Group. The company is wholly owned by the Carl Zeiss Stiftung (Carl Zeiss Foundation).
Further information is available at www.zeiss.com
Industrial Metrology
The Industrial Metrology business group is a leading manufacturer of multidimensional metrology solutions. These include CMMs, optical and multisensor systems, and metrology software for the automotive, aircraft, mechanical engineering, plastics and medical technology industries. Innovative technologies such as 3D X-ray metrology for quality inspection round off the product portfolio. The business group additionally offers a broad global spectrum of customer services with measuring houses and competence centers close to its customers. The Industrial Metrology business group is headquartered in Oberkochen. Production and development sites outside Germany are located in Minneapolis in the USA, Shanghai, China and Bangalore, India. The business group is allocated to the Research & Quality Technology segment. Around 6,300 employees work for the segment, generating revenue totaling €1.5 billion in fiscal year 2016/17.
Featured Product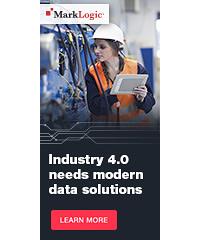 Use Data to Deliver Efficiency, Reduce Risk, and Create Better Products. Disruptive technologies and market changes are transforming the manufacturing industry, requiring a new focus on optimizing use of data and information. It all adds up to a new industrial revolution called Industry 4.0. Organizations who want to realize the potential of this revolution need to "Industrialize their data," making it a core asset to deliver better products and customer service, navigate complex business environments, and transform for the future. MarkLogic customers are delivering on this vision for data with a proven architectural pattern called the Operational Data Hub that simplifies the integration of data along the digital thread to power operational and analytic use cases across the enterprise.