Dorner has completed the necessary auditing steps and is pleased to announce its Hartland, Wisconsin location is now ISO 9001:2015 certified as of May 31, 2018.
HARTLAND, Wis., (July 23, 2018) — Dorner has completed the necessary auditing steps and is pleased to announce its Hartland, Wisconsin location is now ISO 9001:2015 certified as of May 31, 2018.

ISO 9001:2015 is the latest quality management standard that helps businesses and organizations be more efficient and improve customer satisfaction. This standard is designed to meet the needs of todays business world by focusing on risk-based thinking to achieve a coherent foundation for growth and sustained success. Companies that are ISO 9001:2015 certified place greater emphasis on leadership engagement and help address organizational risks and opportunities in a structured manner.
"We have worked extremely hard to offer our customers the best conveyor systems on the market today, and continually achieving that goal means adhering to a standard thats pervasive throughout all aspects of Dorner," said Terry Schadeberg, president and CEO, Dorner. "Becoming ISO 9001:2015 certified represents to our customers that were focused on exceeding that standard for continuous improvement. Our customers can have the utmost faith and confidence in the people and products from Dorner."
Dorner boasts a global workforce of more than 400 and brings a diverse conveyor automation product line and extensive application knowledge to industries around the world. In addition to its Hartland, Wisconsin facility, Dorner has manufacturing facilities in Germany, Malaysia and Mexico, and a sales and engineering office in Canada.
Connect with Dorner on Facebook at www.facebook.com/dornerconveyors
Follow Dorner on Twitter at www.twitter.com/dornerconveyors
Subscribe to Dorner on YouTube at https://www.youtube.com/user/DornerConveyors
Follow Dorner on LinkedIn at www.linkedin.com/company/dorner-mfg-corp
###
Hartland, Wisconsin-based Dorner is a world leader in the design, manufacture and distribution of high-quality conveyors and related equipment. Since 1966, companies from around the world have turned to Dorner conveyors for greatly improved efficiency and productivity. For more information about products or company news, visit Dorners Web site at www.dornerconveyors.com or call 1-800-397-8664.
Featured Product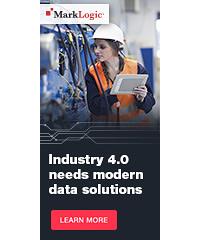 Use Data to Deliver Efficiency, Reduce Risk, and Create Better Products. Disruptive technologies and market changes are transforming the manufacturing industry, requiring a new focus on optimizing use of data and information. It all adds up to a new industrial revolution called Industry 4.0. Organizations who want to realize the potential of this revolution need to "Industrialize their data," making it a core asset to deliver better products and customer service, navigate complex business environments, and transform for the future. MarkLogic customers are delivering on this vision for data with a proven architectural pattern called the Operational Data Hub that simplifies the integration of data along the digital thread to power operational and analytic use cases across the enterprise.