MFGx, LLC announced today the release of MFGx.io, the complete Factory IoT Platform for connecting data, applications, IoT devices and people.
MFGx, LLC announced today the release of MFGx.io, the complete Factory IoT Platform for connecting data, applications, IoT devices and people.

Most manufacturers today deal with multiple disparate systems, poor integration or lack of ability for these systems to communicate with each other. This results in multiple overlapping solutions causing duplication of effort across the entire enterprise. This fundamental issue, coupled with the desire to integrate "things" from the shop floor, are the core reasons why MFGx developed this one of a kind application.
MFGx manufacturers can quickly connect all their applications, data sources and devices, whether on-premise or cloud-based. This allows for the combining of multiple data streams into a single source of the truth.
Have you wanted to integrate your PLM software, payroll provider, CAD/CAM, PLCs, document storage, CRM, accounting or other existing applications with your ERP? MFGx not only makes this possible but shockingly simple with the trusted support of the experts at MFGx. Now you can do all of this and more while maintaining unparalleled flexibility for MFGx to scale with your organization as business rules change.
MFGx not only solves the disparate system issue, but it is the ideal solution as your primary OES application. If you need MES, inventory control, transportation management, mobility, PLC integration or literally anything else to effectively run your manufacturing operations outside of the accounting department - MFGx is the application to deliver all of that and more. We have defined MFGx.io as an OES, or operational execution system, and as such MFGx doesnt manage your books. That is what SAP, PLEX, QuickBooks and Sage excel at. MFGx handles the nitty-gritty details of your operation, the nuts-and-bolts of the plant that ensure quality products reach your customers on time, every time. MFGx connects all of that 'nitty-gritty data to your enterprise system providing real-time intelligence to the entire organization enabling unprecedented visibility into whats happening on the shop floor.
"With MFGx we have combined what has traditionally required multiple vendors working together into a single, scalable, widely supported platform solution enabling clients beyond any other product on the market," said Craig Scott, Founder of MFGx, LLC.
Whether you are looking for a new solution, or simply to build on current systems, MFGx is the missing link you have been searching for. MFGx is the most technologically advanced, always on, 24x7 real-time manufacturing intelligence application designed specifically for the manufacturing industry. MFGx was designed and built by manufacturing people with infinite flexibility in mind, making it ideally suited for virtually any manufacturing operation, regardless of what system or combination of systems you are currently running or plan to run in the future.
About MFGx, LLC
MFGx, LLC is a full-service ERP and technology consulting firm focused on developing cloud-based solutions for manufacturers. Since 2014, MFGx has been developing solutions for leading cloud-based ERP platforms and enabling manufacturers to leverage their IT infrastructure while maximizing efficiency by making use of mobile applications, systems and machine integrations and introducing technology to provide customers with faster more accurate data and automation previously unavailable. Bridging the information gap between shop floor and front office while making our customers more successful has been the driving force behind the development and introduction of MFGx.io.
Featured Product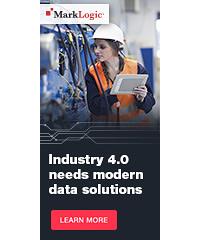 Use Data to Deliver Efficiency, Reduce Risk, and Create Better Products. Disruptive technologies and market changes are transforming the manufacturing industry, requiring a new focus on optimizing use of data and information. It all adds up to a new industrial revolution called Industry 4.0. Organizations who want to realize the potential of this revolution need to "Industrialize their data," making it a core asset to deliver better products and customer service, navigate complex business environments, and transform for the future. MarkLogic customers are delivering on this vision for data with a proven architectural pattern called the Operational Data Hub that simplifies the integration of data along the digital thread to power operational and analytic use cases across the enterprise.