Mindrill for about 50 years has been manufacturing high-quality handheld rock drilling equipment for customers worldwide. It recently launched a high-performance CD100 Crawler Drill machine capable of both DTH & drifter drilling.
25th June 2018 Howrah, India: Mindrill has introduced a high-performance Pneumatic Drill Rig named CD100 Crawler drill,unique in its class and available at competitive price. It has a lightweight self-driving machine and the Pneumatic Crawler Drill is most suitable for both DTH and Drifter drilling. The machine is easy to operate and maintain.

The crawler drilling rig has parts which are easily interchangeable with crawler drill LM 100 Altas Copco. Driven by a 5HP piston air motor, CD 100 has got a rotary head that can revolve at torques of up to 1125N-m and 60rpm.Toease DTH drilling, it has got the HP piston air motor driven rotary head of 60rpm, capable of drilling 102mm-114mm diameter holes up to 36 meters deep. It also makes drifter drilling easier. The drill rig comes with a high penetration rate and can drill 48mm-64mm (1.875"-2.5") diameter holes into the rocks.
The CD100 Crawler Drill has got a boom swing, boom lift, guide swing, guide extension and guide damp arrangement which makes it a versatile Drilling Rig. It covers a wide range of vertical, horizontal and angle drilling positions. A robust chain feed system powered by an air-motor and gear-box setup helps to exert force upto 2200 kgf on either side. Besides this, the machine has a heavy duty tow hitch for attaching and towing air compressor.To get quick and easy access, the crawler drill CD100 has a centralized control positioned on the track assembly.
For more information Please contact:
Mr. Girdhari Jhunjhunwala
Mail id: salessupport@mindrill.com
Mobile No.9830306673
Featured Product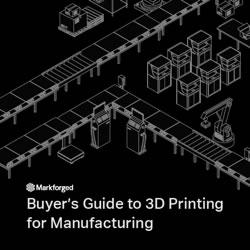 3D printing has become a powerful force in today's manufacturing industry from prototyping to tooling and fixtures to custom, end-use parts. Many businesses struggle to find the right solutions to fit their needs and provide ROI. Selecting the right platform to prevent manufacturing roadblocks is vital to optimizing your manufacturing line productivity. Download the all new buyer's guide to help you evaluate the benefits of 3D printing and dispel misconceptions, understand the pros/cons of various 3D printing processes and materials, and assess the key considerations in selecting a 3D printer.