New features, same low pricing, for machine monitoring at Booth 133240
La Mesa, CA (June 14th, 2018) - Once again, Shop Floor Automations (SFA) is pleased to share a booth with Scytec DataXchange at IMTS 2018. Booth 133240 will display these DataXchange machine monitoring features for attendees of the manufacturing technology show:

DataXchange Version 2018.04.10: The Data Entry screen provides operators with a simple interface to track machine downtimes and will now include a "notes" field to alert others on the shop floor of critical actions. For example, the machinist can put in notes to alert the Programming or QA Departments on specific issues. This proactive notification system keeps the machine running with less downtime.
E-Learning Program: Everyone learns at their own pace and time. Now, with E-Learning, DataXchange users can take online courses anywhere, any time. Configuring reporting options, software installation, initial configuration, shift options, modifying existing machine data, and understanding the machine data collection sources are just some of the topics covered. The classes are a combination of videos and text modules with a quiz at the end of each lesson. The program is accessible for 12 months - courses can be repeated for refreshers, and unlimited users have access to the program with one username and password.
Low Cost, Accessible Machine Monitoring: For OEE monitoring, DataXchange is the most affordable, user-friendly option on the market today. Customers have the option of monitoring machine data on-premise, or they can pay month-to-month with a Cloud-based option. Customers can get text and email notifications of machine issues, which means DataXchange users can be away from the shop floor without worrying about excess downtime. The biggest user-friendly feature of DataXchange is the price, starting at $45 per month, per machine. The software is also compatible with MTConnect, OPC UA, Fanuc FOCAS, and ModBus, which makes for a long list of machines able to use DataXchange.
About SFA: Shop Floor Automations is the number one reseller and integrator of DataXchange. We are on social media on Twitter @SFA_Inc, as well as on Facebook, YouTube, & Instagram under our company name. Call for more info at (877) 611-5825 or Email info@shopfloorautomations.com
Featured Product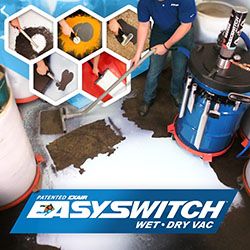 Line Vac conveyors are ideal for moving large volumes of material, parts or waste over long distances. Check out all our styles: Line Vac, Threaded Line Vac, Heavy Duty Line Vac, Sanitary Flange Line Vac and more. Compact, quiet and no moving parts. https://exair.co/184_564