Contract metal 3D printing manufacturing service provider Precision ADM has launched a new website to help reach more customers, improve the online experience and to offer more services.
Precision ADM, Inc. ("Precision ADM" or "the Company"), a global engineering and Additive Manufacturing (AM) solutions provider, announced today the launch of their new website at: https://www.precisionadm.com. This revamped website was designed to offer visitors easy access to essential information and features while offering a more comprehensive understanding of the Company's value proposition and strategic advantages in the metal additive manufacturing industry.

The new site has a clean, uncluttered design, improved functionality, and enhanced content that better reflects the Company's strategy to deliver engineering and manufacturing solutions for the medical, aerospace, industrial, energy, and defense sectors. It also provides information on its ISO 13485:2016 certified Advanced Digital Manufacturing™ process for Design Support, Engineering, Manufacturing and Finishing. The website will be updated on a regular basis with new publications such as white papers, news of business activity, corporate milestones, events, and press releases.
"We are excited to launch our new web site, as we believe that it will offer our customers an enhanced explanation of how our additive manufacturing solutions can benefit their various applications," commented Martin Petrak, CEO of Precision ADM. "Our website is designed to be as intuitive and simple to navigate as possible. Discover the benefits of additive manufacturing by reading our published white papers, learn in-depth about our services, or find industry-specific solutions and applications. You can request a free quote, or call / email us for more information."
About Precision ADM Inc.
Precision ADM is a global engineering and manufacturing solutions provider that uses Additive Manufacturing, also known as 3D Printing, as a core technology, complimented by multi-axis machining to manufacture high value components and devices for the medical, aerospace, energy, and industrial sectors. Precision ADM has created a comprehensive Advanced Digital Manufacturing™ process which includes Design Support, Engineering, Manufacturing and Finishing. Precision ADM is ISO 13485:2016 certified and headquartered in Winnipeg, Manitoba, Canada.
Featured Product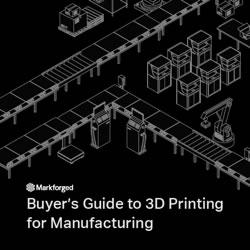 3D printing has become a powerful force in today's manufacturing industry from prototyping to tooling and fixtures to custom, end-use parts. Many businesses struggle to find the right solutions to fit their needs and provide ROI. Selecting the right platform to prevent manufacturing roadblocks is vital to optimizing your manufacturing line productivity. Download the all new buyer's guide to help you evaluate the benefits of 3D printing and dispel misconceptions, understand the pros/cons of various 3D printing processes and materials, and assess the key considerations in selecting a 3D printer.