NEXCOM and Boise State University realize the importance of robotics as a component to the new era of manufacturing and implement it into the engineering education.
Advanced leading manufacturing company NEXCOM has been invited by American Institute in Taiwan to join SelectUSA Summit this month to explore the US market. "For over 5 years, NEXCOM has been investing numerous resources to gather know-how and design solution products needed to solidify our position in the robotics business. I am very proud of being an educational robotics pioneer and working with Boise State University on its first order with NEXCOM's brand new subsidiary, NexCOBOT," said Clement Lin, chairman of NEXCOM.

Committed to the Industry 4.0 revolution, NEXCOM offer comprehensive solutions to capture data from robots, intelligent machines and smart production line. In the traditional production line, machines vary in vendors with individualized proprietary control system and controllers. The differences in communication protocols prohibit direct communication between machines, making it difficult to capture equipment data and manage systems centrally. With Open architecture, NEXCOMs solutions allow machines to work in cohesion and effectively enhance production line efficiency.
"With more interest in advanced manufacturing, there is a need to ensure our engineering students are prepared to enter this new era of product line deployment, supply chain management and big data analysis for manufacturing. As robotics are an important component to this new era of manufacturing, we see this an opportunity to implement robotics into our education," said JoAnn Slama Lighty, Dean from College of Engineering, Boise State University.
"First step is to build the eco-system so that IIoT can serve manufactures efficiently. NexCOBOT advocate the idea of education first. In the beginning, we will work with Boise State University to provide educational robot (miniBOT) with software integrated, establish training center and provide courses, then NexCOBOT will widely duplicate this model across the US. We believe by adopting industry-university cooperative project will benefit young talent for Made in America policy," sincerely said Clement Lin.
Featured Product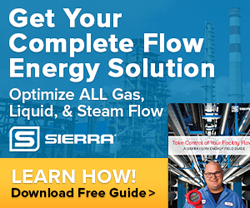 Download Flow Energy Guide - Written by Engineers For Engineers. Learn how to save on energy costs by optimizing your facility flows that impact costs like compressed air, natural gas, steam, and hot or chilled water.